( Ceduna〜Wirrulla〜Poochera〜Minnipa〜Wudinna〜Kayancutta〜Kimba)
Hi everyone!!
24th
I'm taking a good rest today, and going to AUS family's home.
Alison, Francios, James, Jock & Daniel are very kind for me.
We took a lovely dinner together, after dinner we driving real AUS bush.
My herat is pounding.
Feel so recovered.
Thanx everyone!!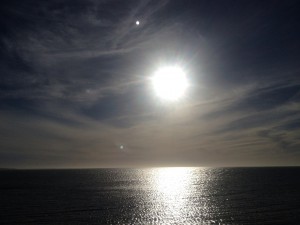 I'm take off to the next destination Port Augusta tomorrow.
From here to PA is 450km, so I need 9 days.
That town, I'll meet one of my japanese best friends, his name is Kazuki Nakatsukuma.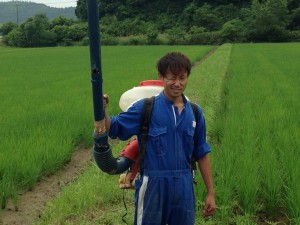 He is a farmer in Ayabe, Kyoto, Japan.
He making a great japanese organic rice with his father.
There farm is huge, but only he and his father working and making rice.
That's incredible!!
That's rice is the best taste of my life!!
This time, he delivery his great japanese rice for me.
I'm so much thanks full for about his kindness.
I can eat japanese rice in Port Augusta!!
So I'm looking forward to meet him.
25th-27th
These days is too much hot.
More than 40 degrees.
I felt very tired and hard to walk this 3 days.
Moreover Some blister, some laceration, everytime these pain hit my heart and body.
Besides my right side Shin-Sprint is problem happened, so both foot has same problem.
That's worst.
But I want to tell the courege and cheer up for Tohoku people.
So I'm keep going whatever happened.
I'm passed 2 towns, Wirrulla and Poochera.
These town is little and quiet.
I can't found people.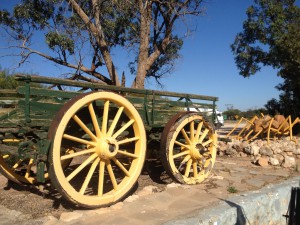 I have a bad problem, but I have a happy meeting.
Wes & Ross is a kind brother's, they gives me many help and donation.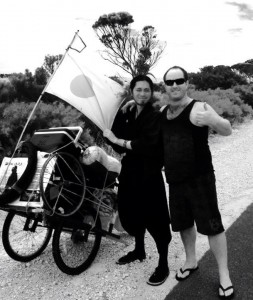 Daryl & Denise is meet again, before we met in Nullarbor roadhouse.
There is so much kind and help me everytime.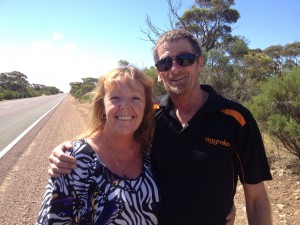 I'm taking 175km this 3 days and approaching Minnipa motel.
〜Minnipa?Alison, Francios, James, Jock & Daniel, Wesley & Ross James, Daryl & Denise
28th-30th
These day's is little bit down degrees.
And rain has come.
Also I met kindness people.
Arezzo & Arya gave me launch noodles.
I like noodles, so feel very happy!!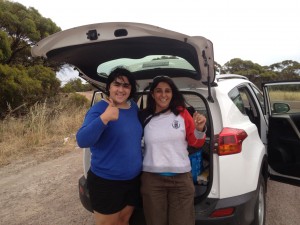 SA police Nithin introduce me there web page, So I can get more publicity.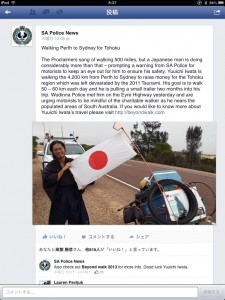 They gives me many food and stuff every time.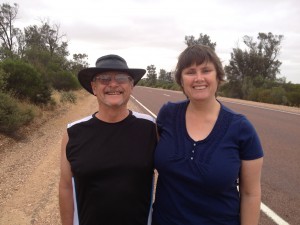 Patrick is nice guy, he asked me about food and everything.
I don't have enough stuff, so he go back before town, buy something and gave me that.
I'm very impressed his kindness.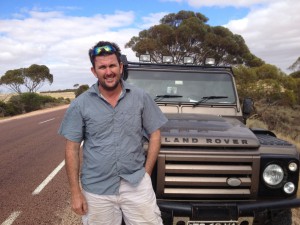 David & Yuree, we met in Nullarbor, also they gave me kind help.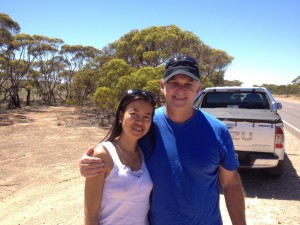 But after we meet, my cart both wheel is broken.
One is spike, one is bolt problem.
So I exchanged old wheels, I hope to keep and go to Kimba and Port Augusta…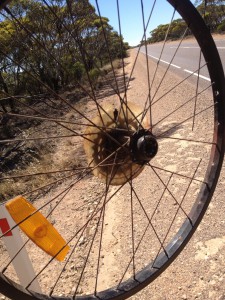 Barely my cart and wheels keep going, so I can get Kimba at 30th.
I'm taking 140km this 3 days.
Kimba Gateway Motel manager Damien is also kind.
I can get good accommodation and rest.
Thanx for all person who gives me great support!!
Thank you, and thank you so much.
〜KImba?Arezzo & Arya, Nithin Chef, Jim Fiwn, Patrick, David & Yuree, Peter McDonell, Phill & Judy,[ Kimba Gateway Motel ] / Damien
Finally I'm approaching at 2,230km from Perth.
That's way is too much hard way, but I can walk across Australian half way.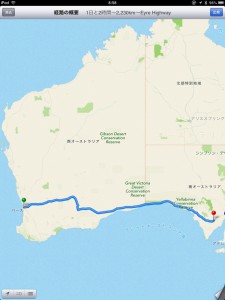 Thanx for everyone's help and all of kindness.
And please follow of my charity walk.
I'm still raising donation for Tsunami victims children education.
I need your help.
Please help me and my challenge.
Thanx a lot.
When you see me on the road, please call out to me.
I hope to see you in near the future.
If you want support for Tohoku, please check my donation page.
Thanx for reading.
Have a good day!!