( Southern Cross~Yellowdine~ )
I'm going to the Coolgardie.
This erea is no town, store and accommodation.
So I'm taking camp out.
Like this.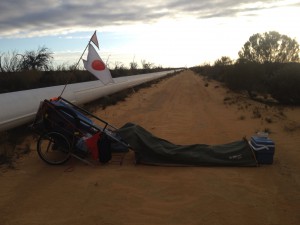 Everyday I meet many people.
Monika is a kind women.
We are talking about many things and feel courage.
Thanks her so much.
And I met one family.
Tony is a musician and photo grapher.
He took a very good photo for me.
I heard his band "Zimmers Apprentices" , and his songs so goods.
Please check his page on facebook ro YouTube.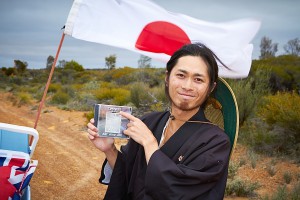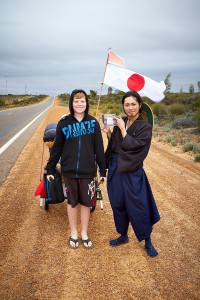 Australian weather is easy to exchange.
Temperature is one day 37, but other day 10.
Walking too much hard.
October 10th is a heavy rainy day.
I was so much wet and cold.
Feel so bad and afraid about camp out.
But suddenly, one guys coming.
I met him once at Brisbane.
He lives in Kambalda, and he coming to help for me.
That's is makes me relieved.
At last he took me to his home.
I'm taking a good rest.
He and his family ( especially his wife ) makes me recover.
Moreover his two friends helps me so much.
( Buying new phone, new tubes and take me Kalgoorlie. )
Thank you so much everyone.
【Special thanx】
~Coolgardie?John & Marshall, Linley, Monika, Tony & Noelene & Luke
~Kalgoorie?Chandon Chakrabortty
~Kambalda?Vindu & Adriana , Aruna don , Prabhash Kumarasinghe
I'm start again at 14th.
Go back my way to the Coolgardie.
When you see me on the road, please call out to me:-)
I hope to see you in near the future.
If you want support for Tohoku, please check my donation page.
Thanx for reading.
Have a good day!!