( Bronte~Opera House )
6th of August
This day came at finally.
It was so long way from Perth to Opera House, totally distance is more than 4,300km, what's a huge country!!
I got up at 6:30, sat down on their garden and saw the sunrise, it was beautiful.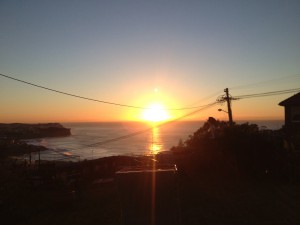 I felt sooooo excited.
I left Liam's house at 8AM and heading to Opera House, 9km far from here.
Share mates saw me off, thanks everyone!!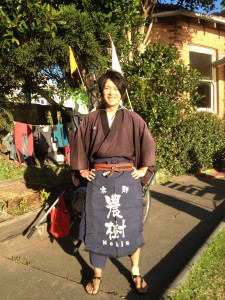 In the middle of a way, I stopped at one cafe, named [ Ruby's Diner ].
Carly told me about here, and I was really enjoyed breakfast at here.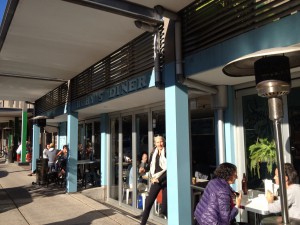 Here's owner treated me a coffee and muffin, it was delicious.
Thank you so much!!
This day I walked savoring each steps.
I remembered everything about all of my journey, WA, Nullarbor, SA, VIC and NSW.
Almost everyone gave me so many kind of help and support, that's why I'm in here now.
I felt crying because I remembered for all of my benefactors.
And after into NSW, I didn't paid accommodation fee, it was great.
Thanks everyone!!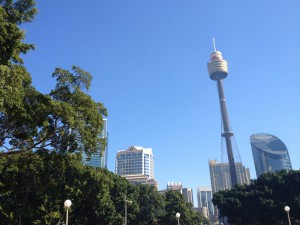 This 6th of August is a day of the memorial about Hiroshima.
Almost Japanese pray for victims and peace the world, it seems "sad" Memorial Day.
But in this situation, Japanese can't grieve forever, so we need to change this day means for the peace and hope.
Otherwise, Japanese doesn't overcome.
Why I choose this 6th of August is my final day?
Because of I repaint this day sometime on a day of the Hope.
This is my dream.
Tohoku ( Tsunami hit regional ) situation is also same with Hiroshima.
People still suffering in silence, of course there situation still terrible.
But I believe Japanese must not grieve forever, we need to stand up again.
Therefore, I started my charity walk last year and try to cheer up for victims from my walk.
I have no idea what my walk can cheer up for them or not, but I believe my wish approached for them.
So many problems happens in the world, but I'll keep up charity cause for the world till I die.
I'll never surrender, and I believe human will never surrender too.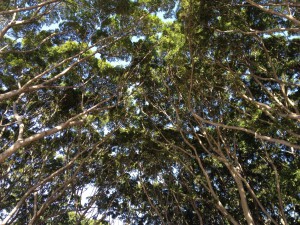 I have arrived at Opera House in 12PM.
Finally my walk finished.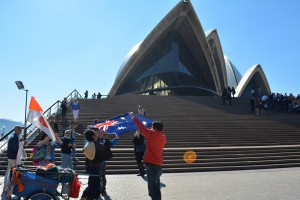 I was full of the thought of thanks.
Everyone's kindly help made my walk succeed.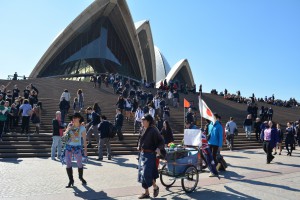 Thank you, and thank you so much.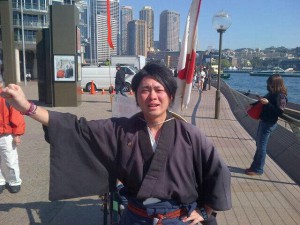 This blue jacket guy is my father, haha.
My best friend and father came to see me from Japan, and many friends also came from some state of Australia.
I'm a lucky, thanks everyone who came to see me.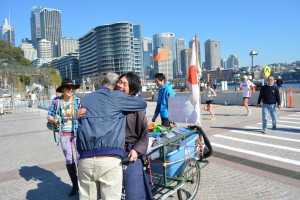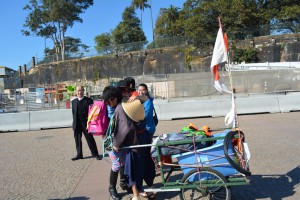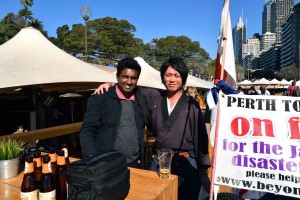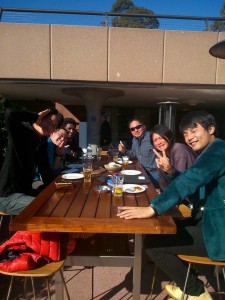 And good bye my mate, he walked with me together about more than 4,300km.
Rest in Peace!!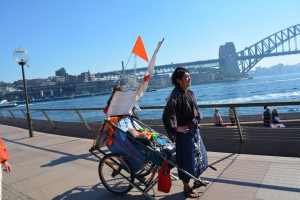 I'll never forget this day and all of my way in Australia.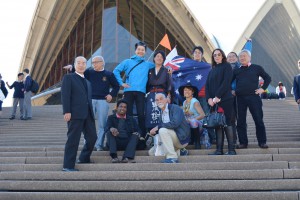 This night, Mr Yasumoto invited me and my friends for beautiful Japanese restaurant in Sydney.
It was amazing!!
I felt contented, because I got Japanese food sick every time.
I was so happy to eat Japanese food.
Thanks Mr Yasumoto!!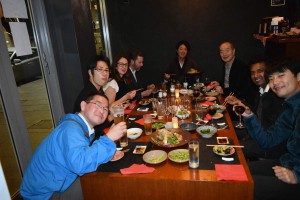 After that I went to Daj's house, he looked after my accommodation at this moment.
Me and my best friend Keita really enjoyed to stay his house.
His family were so kind and his pet named Charley was also cute and good boy.
Keita loves Charley, haha.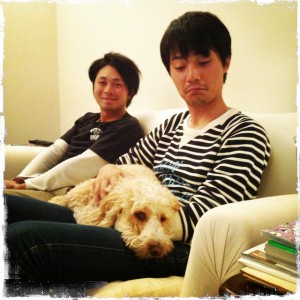 Thank you very much Daj and everyone!!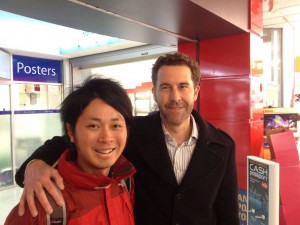 And also thank you Alison and Cray who is friends of Daj!!
My Japanese friends took me for fish market, Blue mountains, beautiful restaurant and some pubs.
Also I walked threw at Harbor bridge.
I was really enjoyed at this moment.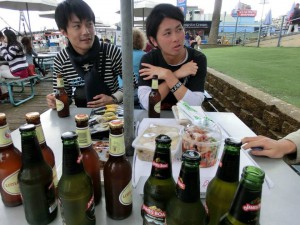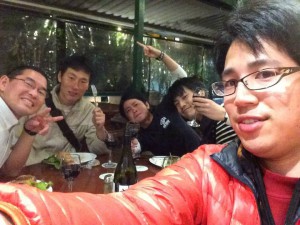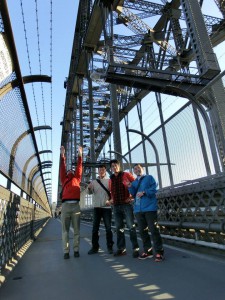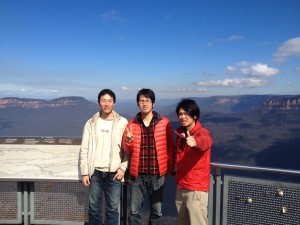 And to my happiness, my big benefactor Joji-san came to see me!!
He is a owner of Japanese Restaurant "Matsuri" at Adelaide.
When I stayed at Adelaide, he looked after me every time!!
He is so kind and I respect him.
I'm really happy to saw him again in Australia, what's a big gift for me.
Thanks Joji-san, Skye, Zahid-san and Marius-san!!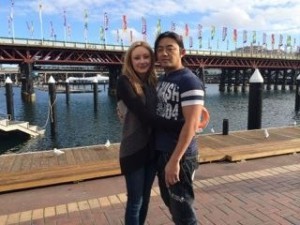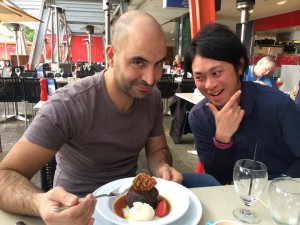 I flew back to Brisbane, and staying my friends house now.
I feel calm and relax, but my heel still sore and very sleepy every time.
So I try to recovery now.
I'll fly back to Japan next Tuesday, 2days remains.
Feel so sad because I love Australia.
But I'm also looking forward to seeing my friends in Japan too.
It's paradox.
【 Special Thanks 】
Makiko Touda
Mai Yoshioka
Mrs Sarsha and Mr Yasumoto
Dapto Plu
Anthony Hunt
Danielle Hellmund and class
Erin Cara
Zac Caudo
Lou-Ellen Varty
Kate, Amelia and David Parker
I raised $7,274 from my walk.
After go back Japan, I'll exchange this for Japanese Yen and take this for 4 Tohoku Support organizations.
I'll write about this near the future in this blog.
For the time being my story will end, but I'll keep up my cause.
Thank you very very much for all of my benefactors!!
And Australia!!
I'll be back in near the future.
I'm really looking forward to seeing you again in this lucky country.
All the best for the future.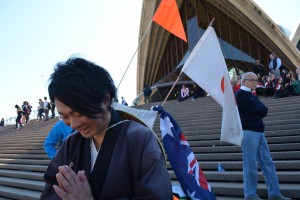 Thanks again.
Keep following BEYOND WALK!!
Yuuichi
Acceptance of monetary donations for the Tohoku Earthquake
The donation is to contribute to child education and support in Tohoku region.
1 After I finish my challenge, I will return to Tohoku and give support to them as much as possible, and I will do my best to inform you the details about it.
2 Where the money goes
Your kind donation will be used to rebuild the schools and education support for the children
from the disaster region.
3 The Bank information for Donations
*Bank Name : Commonwealth Bank
*SWIFT Code : CTBAAU2S
*Branch Name : Mount Ommaney Queensland Australia
*Beneficiary's Name : SHOTA IWATA
*Beneficiary's Saving Account Number : 10591452
*Beneficiary's Saving BSB Number : 064173
4 Inquiry
info@beyondwalk.com / Yuuichi Iwata
5 After you have completed your transfer of funds kindly put your name / contact details on the HP(Home Page)
A. The name of the individual who had an transfer the founds
B. Your permission to publish your name / detail on my HP
C. Your message (Please make a short message under 30 words)