( Conjola~Basin View~Nowra~Kiama Downs~Figtree )
30th
Heading to Kiama Downs, 47km far from here.
This day was a big day!!
I left Eric's house at 6AM, because I need so many hours to walk.
I choose back road, there was flat and not hilly.
Also enough room to walking, it was great!!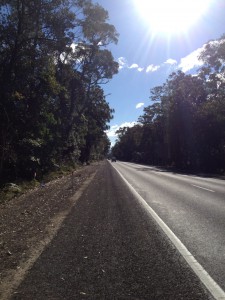 This was big help for me, my feet still sore…
When I have arrived at Gerringong, many people gave me food, drink and donation.
It was funtastic, thank you very much everyone!!
I passed through just two big and steep hills.
So hard to walk, but I made it!!
Pleased to meet you Matt, you and your family is lovely.
I lost my way one time, but I have arrived Carol-Ann's house at before sunset.
She is also lovely.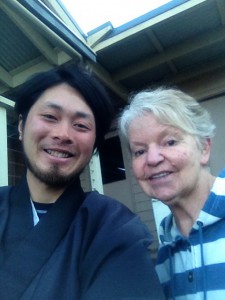 Carol-Ann provided me for one room, that room seems motel room, this means it was beautiful!!
Moreover She made me a nice dinner and gave me a donation, also her family named Alison and Phil gave me a donation too.
What's a wonderful night time, I was really enjoyed at that time.
Thank you every one.
31st
Heading to Figtree, 28km far from here.
This day Brett and his family looked after me.
I got interview from ABC radio this morning, so many people stopped and gave me many kindness.
Yeah, I need to get more publicity.
I left her house at 8AM, also I choose back road.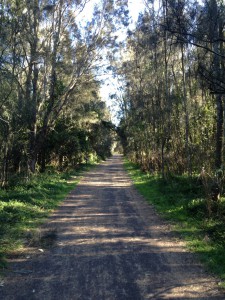 When I have arrived at Windang, two lady came to me and gave me soft drink.
They owned Thai restaurant at Windanh, and there opened just 2 weeks ago!!
Sarah and Pranom treat me a fried rice, and it was so nice!!
Their kind cheer up my mind, because I'm still tired of yesterday's big walk.
Thank you very much!!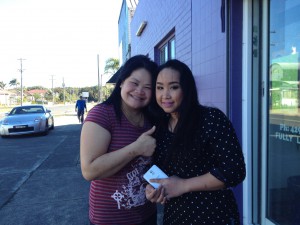 Road was very busy, so not easy to walk, but weather was beautiful that good for walking!!
I felt excited!!
5km before Brett's house, I got interview from WIN news, it was good time.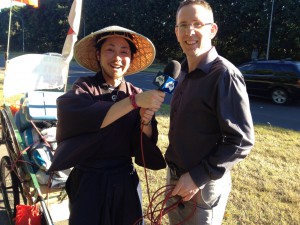 If you like, please check my interview, broken english still alive!!
Tank you very much for WIN news!!
I have arrived his house at 4PM.
Kate is a good chef, home made pizza and cake, it was delicious.
Also the bath made my feel better.
I'm really enjoying have some chat with them.
I did some of my task after dinner, and went to sleep midnight.
1st of August
This day was a rest day.
I'm very happy I can take a rest here, I'm looking after for my feet.
Brett took me for his hospital and arranged many medical care for my body and feet recover.
Oxygen chamber, blood test, some kind of healing, massage, acupuncture and taping for my feet.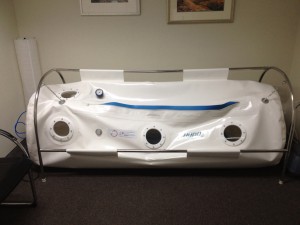 This is my blood, haha!!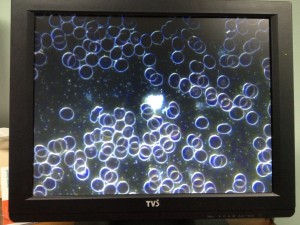 This is all free, because Brett has some kind of machine like Oxygen chamber, and his many friends looked after for me!!
It was a big big help for my final walk, I felt I was recovered so much.
Thank you so much, everyone!!
After that Kate took me for the road which I'll heading.
I can check road situation and I decided to choose back road around cost side.
Also she took me for look out, there scenery was beautiful, I love that sight.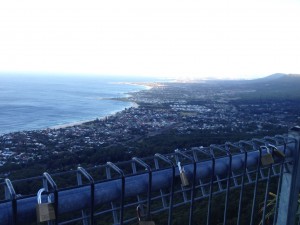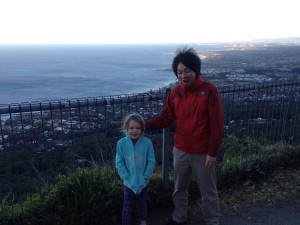 Kate made for me a beautiful roast chicken, it was delicious!!
I was really enjoyed this two days, thank you so much Kate, Sinead and Brett!!
I'll never forget their kindness.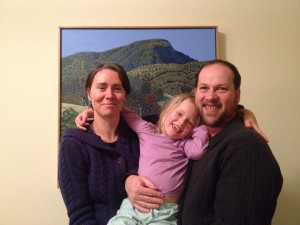 【Special Thanks 】
Brett
Jenny Parkinson
Kris and Greg ( Nugget )
VIC teacher
Ann and Graham
[ WHARF RD Restaurant and Bar ] owner / David
Eric and Babs
Shayne, Kailene Sutherland
Janet Selby
Carol-Ann
Alison and Phil
[ Thai Garden ] / Sarah and Pranom
Mitchell
Rob Beaumont
Richelle Wood
Summer and Dakota
Kate, Sinead and Brett
I'll heading to Coledale tomorrow.
Just 5 days remains of my walk.
I'm really excited about my walk will nearly finishing, but also little bit sad.
I'll leave Australia 3 weeks later from Gold Coast air port, that's why I mis Australia.
Anyway, I'll keep walking for Sydney Opera House.
I'll never regret of my walk and my life.
Looking forward to seeing you on the way.
Keep following BEYOND WALK!!
Yuuichi
Acceptance of monetary donations for the Tohoku Earthquake
The donation is to contribute to child education and support in Tohoku region.
1 After I finish my challenge, I will return to Tohoku and give support to them as much as possible, and I will do my best to inform you the details about it.
2 Where the money goes
Your kind donation will be used to rebuild the schools and education support for the children
from the disaster region.
3 The Bank information for Donations
*Bank Name : Commonwealth Bank
*SWIFT Code : CTBAAU2S
*Branch Name : Mount Ommaney Queensland Australia
*Beneficiary's Name : SHOTA IWATA
*Beneficiary's Saving Account Number : 10591452
*Beneficiary's Saving BSB Number : 064173
4 Inquiry
info@beyondwalk.com / Yuuichi Iwata
5 After you have completed your transfer of funds kindly put your name / contact details on the HP(Home Page)
A. The name of the individual who had an transfer the founds
B. Your permission to publish your name / detail on my HP
C. Your message (Please make a short message under 30 words)