( Figtree~Colaedale~Sutherland~Bronte )
2nd of August
I was heading to Coledale, 21km far from here.
This day was also beautiful weather, very good day to walking.
Thanks Brett family!!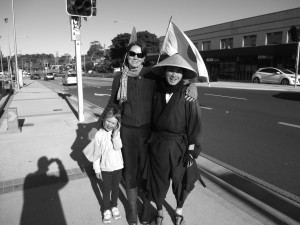 Brett arranged me to get media for TV, radio and news paper, so many people knew about me this day.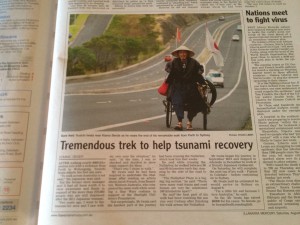 Many people would stopped in front of me and gave donation.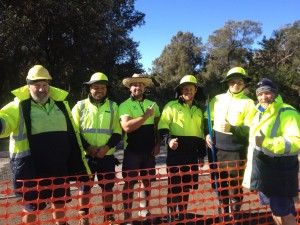 Especialy, I'm really happy to meet one guy, his name Ron.
We met in VIC before, and we met again in this day!!
And another guy, his name Peter, he gave me a lunch, it was delicious.
He is so kind and he has beautiful mind, I'm glad to meet him.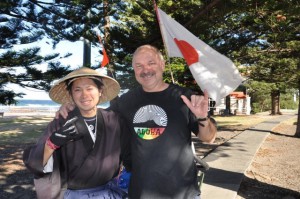 Everyone very kind for me, thank you very much.
I'm really happy to choice my first time charity at Australia!!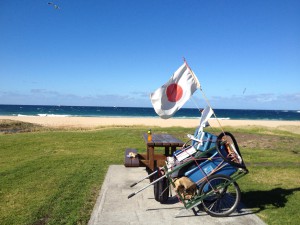 I have arrived at Coledale in 4PM.
This day Sharon and Malcolm looked after me, they also lovely.
I took a bath, beer, beautiful dinner and took a tight sleep.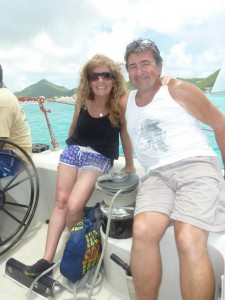 Sharon seems a my mother, she looked after me so much.
I'm so thanks full for her.
3rd
Heading to Sutherland, 37km far from here.
I got up 4AM and left Sharon's house at 5AM.
This day was a final big day of my walk, steep hills and long distance waited for me.
That's why, I left there at early morning.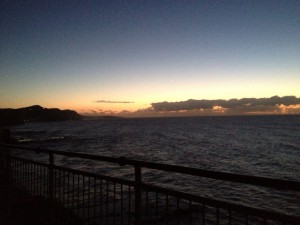 After Stanwell Park, there has big hills, and not enough room to walk and very steep.
It was so hard, I have no chance to took photo.
After finished hills, I took a photo at around Stanwell Tops.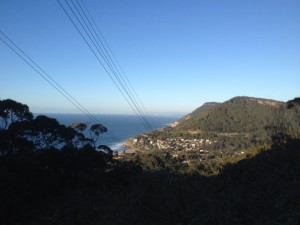 I felt little bit sad because my walk nearly finishing, but of course, I was also excited.
It's a paradox, haha…
After these hills, road seems be flat and enough room to walk, it was great.
And finally, I have entered at Sydney area!!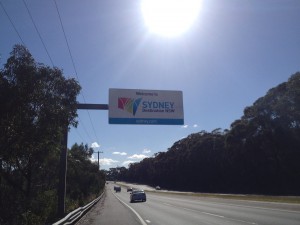 I felt so excited!!
I have arrived at Sutherland in around 3PM.
So many people helped me today, they gave me a hamburger, sider and also donations.
One coach of Miranda Australian Football team, he gave me a cap, it was cool.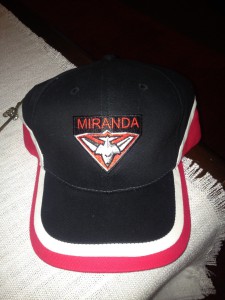 Fran and her family looked after me, there were kind and friendly.
We eat dinner together, it was delicious.
Thank you very much Fran and everyone!!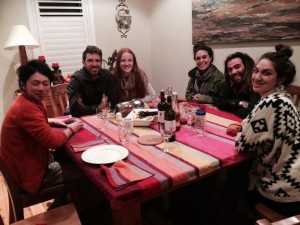 4th
Heading to Bronte, 29km far from here.
I left Fran's house at 7:30 and followed the A1 HWY.
It was beautiful weather this day, and enough foot path that was great help for me.
I saw huge buildings of the city.
My journey will finishing nearly there…!!
Walking with thanks full mind, everyone's help pushed my back and I have arrived here.
Thank you everyone.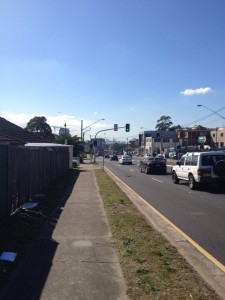 When my final break time of this day, I went to a cafe, and met one Japanese guy who is a head chef is this cafe.
I'm really enjoyed to spoke with him, and food.
Thanks Ken-san!!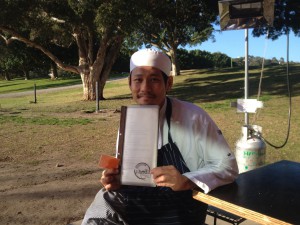 I have arrived at Bronte in 4PM, Liam and his friends welcomed me so much!!
We enjoyed to drink beer at beautiful garden, we can see the sea.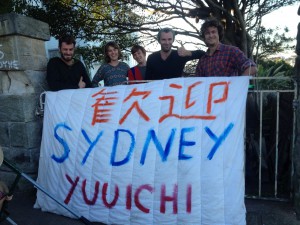 Here is just 9km before from Opera House.
Two days remains.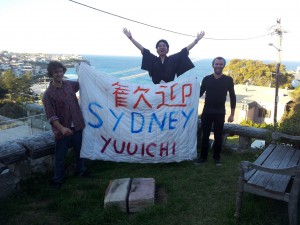 After took a shower, Liam took me for the Ramen-Shop at Bondai Janction, it was sooooo delicious.
Every time I got " Japanese food sick ", so this Ramen was great!!
I'm really enjoyed at this dinner.
After go back home, I slept tight.
5th
This day was a my finally rest day in my journey.
I'll try to recover my feet and update of my blog.
Take it easy.
I spend almost time at garden, sat down chair and saw the ocean.
This scenary made my mind calm and quiet.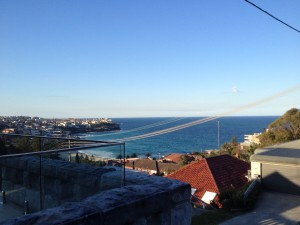 【 Special Thanks 】
Mrs Oda
Bob and Lesley
Sharon and Malcolm
Blake Holz
Loraine
Miranda Australian Football Club
Fran Caruana
Celia Lewis
Kathy Hudspith
Suzanne Pope
Sharon Bent
Ra
Alice, Michael
Nick, Owen
Carly, Liam and Arthur
I'm always thinking about the world, and Tohoku area.
Everywhere the world has many problems.
Seems very hard and sad, but that problems still going human age.
Many people suffering in silence.
I want to make difference for the world, of course my power is tiny, but I'll keep up of my hope.
We need to take action.
This charity walk is one of my action.
That's why I started this.
I didn't get publicity from Japanese medai, its funny isn't it!?
They doesn't interested in my course and Tohoku.
This is recently Japanese situation.
Majority people are thinking about just only theirselves.
I think that is not good for our FUTURE.
That's why I want to make a positive wave for Japan!!
The world waiting for our 99% revolution!!
I'll keep going of my couse till I die.
Tomorrow is my final walk day.
6th of August, 12PM.
I'll walking for Opera House with peace mind and thanks from all of my benefactore.
My mind is made up.
Thank you very very much for all.
Your help took me to this stage.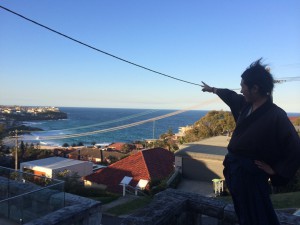 I believe we can make the world better place!!
Looking forward to seeing you on the way.
Keep following BEYOND WALK!!
Yuuichi
Acceptance of monetary donations for the Tohoku Earthquake
The donation is to contribute to child education and support in Tohoku region.
1 After I finish my challenge, I will return to Tohoku and give support to them as much as possible, and I will do my best to inform you the details about it.
2 Where the money goes
Your kind donation will be used to rebuild the schools and education support for the children
from the disaster region.
3 The Bank information for Donations
*Bank Name : Commonwealth Bank
*SWIFT Code : CTBAAU2S
*Branch Name : Mount Ommaney Queensland Australia
*Beneficiary's Name : SHOTA IWATA
*Beneficiary's Saving Account Number : 10591452
*Beneficiary's Saving BSB Number : 064173
4 Inquiry
info@beyondwalk.com / Yuuichi Iwata
5 After you have completed your transfer of funds kindly put your name / contact details on the HP(Home Page)
A. The name of the individual who had an transfer the founds
B. Your permission to publish your name / detail on my HP
C. Your message (Please make a short message under 30 words)