( Conjola~Basin View~Nowra )
27th
Heading to Basin View, 21km far from here.
This day also wasn't hilly and beautiful weather, very good for walking.
I'm enjoyed to walk.
I was looked after for my feet, so took some rest, don't be rush.
Few days ago I met one guy, his name Barry, he was very kind for me.
Also his wife made for me a fried rice, it was delicious.
Barry arranged my accommodation at 27th, so I was heading to his friend house at Basin View.
Barry's friend name is Greg and Kris, they looked after my accommodation at there house.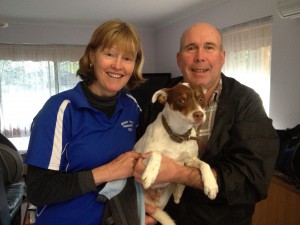 They were so kind and provide me a beautiful bath and dinner!!
I was really enjoyed to stay with them.
Thanks Greg, kris and Barry!!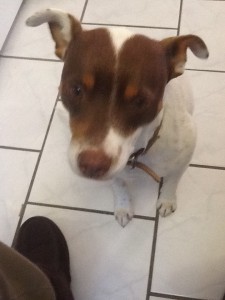 Also Zack, haha!!
28th
Heading to Nowra, 25km far from here.
I left Greg house at 9AM, and followed the A1 HWY.
This section was also flat, so big help for my feet.
Many drivers gave me a teet and cheer up for me.
Thank you very much guys!!
I have arrived at Nowra around 3PM, took a warm shower and nice dinner.
This day Eric looked after me, he is a friend of Liz.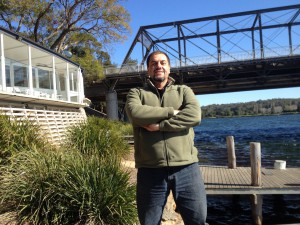 So many people helped me so much, thanks again!!
I was really enjoyed to stay here with Eric.
29th
Thai day was a one day rest.
Felt calm and relax.
I was try to recover of my feet and body conditions.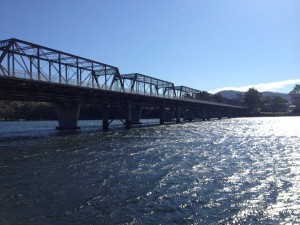 David, he is a son of Beth, invited me for his restaurant at Nowra.
Named [ WHARF RD Restaurant and Bar ].
That restaurant located at side of Nowra River and bridge.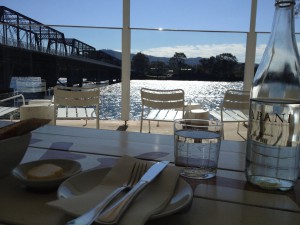 There scenery was amazing, very kind stuff and beautiful meals!!
I was really enjoyed and felt like I'm in heaven!!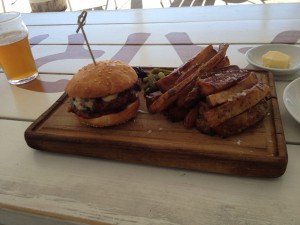 Thank you very much David and Beth.
This day afternoon, Eric took me for a massage, it was great.
My final massage was one year ago, so it was big big help.
Heel is still sore, but My body and feet recovered!!
After that, Eric took me for his parents house, and we had a beautiful dinner.
I'm really enjoyed took a time with them and have some chat.
They from Italy, so Italian dinner was sooooo lovely.
Thanks everyone!!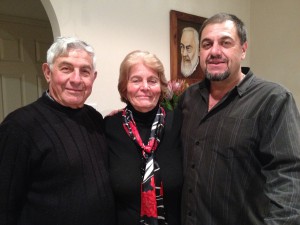 Eric looked after me so much, he is the man.
I'll leave here tomorrow, but I miss him.
Thank you very much Eric, I'll be back and say thank you few years later.
【 Special Thanks 】
Brett
Jenny Parkinson
Kris and Greg ( Nugget )
VIC teacher
Ann and Graham
[ WHARF RD Restaurant and Bar ] owner / David
Eric and Babs
Thank you very much for everyone's help about my accommodation.
I got place to stay from here to Opera House, and I'm just in schedule.
【30(Wed)…Kiama Downs】
Carol-ann's house
??28km
【31,8/1(Tur,Fri)…Figtree】
Brett's house
??21km
【8/2(Sat)…Coledale】
Sharon's house
??40km
【8/3(Sun)…Sutherland】
Fran's house
??29km
【8/4,5(Mon,Tue)…Bronte】
Liam's house
??9km
【8/6(Wed)…Opera House】
I'm very excited about my journey, just one week remains.
Count down, count down!!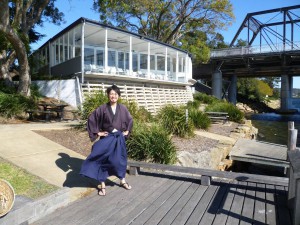 Thank you very much for everyone's kindness support and help.
Looking forward to seeing you on the way.
Keep following BEYOND WALK!!
Yuuichi
Acceptance of monetary donations for the Tohoku Earthquake
The donation is to contribute to child education and support in Tohoku region.
1 After I finish my challenge, I will return to Tohoku and give support to them as much as possible, and I will do my best to inform you the details about it.
2 Where the money goes
Your kind donation will be used to rebuild the schools and education support for the children
from the disaster region.
3 The Bank information for Donations
*Bank Name : Commonwealth Bank
*SWIFT Code : CTBAAU2S
*Branch Name : Mount Ommaney Queensland Australia
*Beneficiary's Name : SHOTA IWATA
*Beneficiary's Saving Account Number : 10591452
*Beneficiary's Saving BSB Number : 064173
4 Inquiry
info@beyondwalk.com / Yuuichi Iwata
5 After you have completed your transfer of funds kindly put your name / contact details on the HP(Home Page)
A. The name of the individual who had an transfer the founds
B. Your permission to publish your name / detail on my HP
C. Your message (Please make a short message under 30 words)