Hi everyone!!
18th
Today I'm started at 6 AM, and I saw a great sunrise.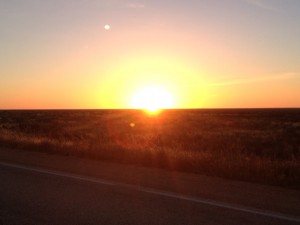 This section has a many trees, so I understand finished most hard section.
But this day is a too much hot day.
Over 38 degrees.
Not easy to walk and so many fry's coming, feel bad.
One couple, Cheryl & Darrel I met them in Nullarbor roadhouse, they gives me cup of tea into the caravan.
So I can get good rest, thanx for them.
And one guy coming, his name Brendan.
He interview me and take some photo.
Such a interesting time.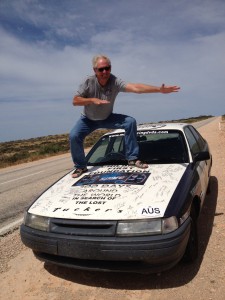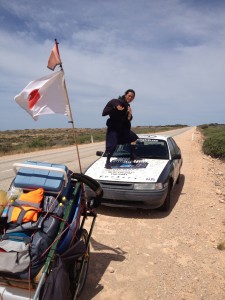 I met many people, Holland cyclist guy Mart is kind, Don gives me a coke…
I'm so happy to meet them.
They makes me remember " why I should do this. "
Everyday too much hard, but I can keep going about them help.
I'm taking 56km this day.
19th
This day has a bad rain and many rolling hills.
Too much hard way.
Also today some people help me.
One British couple Siobhan & Petter gives me a great lunch!!
I'm very happy to take time with them together.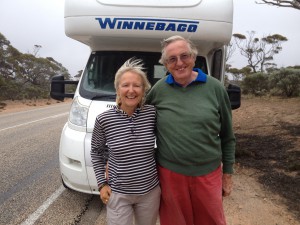 Before camp time left the rain, that is my helpful.
Taking 58km today.
20th
This day is only 30km, so little bit easy.
But my foot still bad…
Few rain had come but easy day to walk.
This day is not stop the car, but only one road train.
That tracky gives me many food!!
I'm very impressed his kind.
I'm approaching at Nundroo roadhouse at 2PM.
Night time, there stuff Yolanda & Jeff gives me a great rest time, so I feel recovered.
At least 3days, I can approaching at Ceduna, there is a final stop of Nullarbor plain.
I'm looking forward to reach there.
I hope this 3days weather is good…
〜Nundroo?Anthony, La Mon, David, Mart, Alec & Judy McNeill, Don, Cheryl & Darrel Little, Brendan Edgerton, Nick & Mark, Marko & Jadranka, Lesley Bock, Guthrie Family, Beth & Errol Burton, Siobhan & Peter Dobbs, Benjamin, Tom Di Chiera, [ Nundroo Roadhouse ], Joann Means, Yolanda Perin & Jeff Saffer
When you see me on the road, please call out to me
I hope to see you in near the future.
If you want support for Tohoku, please check my donation page.
Thanx for reading.
Have a good day!!