( Adelaide – Summertown – Balhannah – Callington – Murray Bridge- Tailem Bend – Yumari – Coonalpyn )
Hi everyone!!
27th
I was getting a good rest yesterday, so heading to Callington this day.
I'm little bit sad because John's family are very kind.
Thank you very much everyone!!
This day was so much heavy rainy day.
I got a wetting in the rain.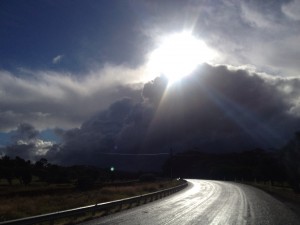 Wind also very strong, so it was not easy to walking.
But sometimes rainbow appears.
Go through under the rainbow!!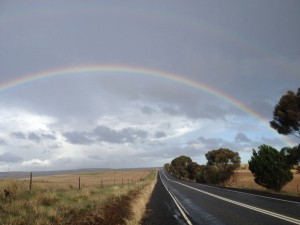 I took 34km for 8 hours and have arrived at Callington.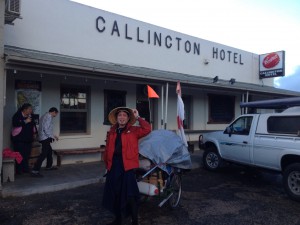 I was very wetting, but this town doesn't have accommodation, it was problem.
When I was drinking Coopers ( thanks for Jarred and Maggie!! ), John called to me.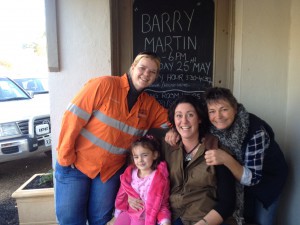 He said,
" If Callington doesn't have accommodation, you can coming our house again.
And I'll take you back for Callington tomorrow morning."
John's suggest was a helpful for me.
Yes, he is a kindly man.
That's why I was staying his home again, took a shower, good food and sleep.
Thank you very very much Yvonne and John!!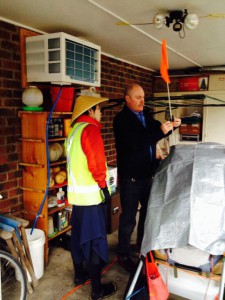 28th
This day I was heading to Murray Bridge.
There is 22km far from Callington.
When I was starting my walk, one kindergarten ( next to Hotel ) teacher came to me.
She said,
" If you ok, could you speak about your story before children? "
That's why I was talking with them, but my English is not good, so teacher's helped me.
That was interesting time.
Thank you very much mate.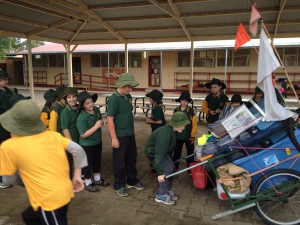 Many people would stopped in front of me, also Jarrod too.
He can speak Japanese very well, because his wife is Japanese and he stayed Japan for few years.
I was enjoyed talking with him, sometime I miss Japanese word!!
Thank you Jarrod, see you soon.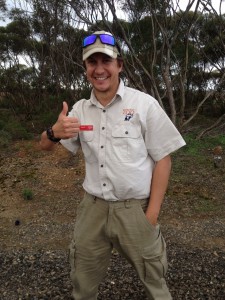 I have arrived at Murray Bridge 4PM and took accommodation.
Murray Bridge OVAL MOTEL?manager was discount about fee.
That was lovely.
And here has very nice rooms.
Thank you very much Donna & Walter!!
I was enjoyed staying here.
29th
I was heading to Tailem Bend for 25km from here.
I passed one bridge of Murray river, but that was too tight to walking.
Look this photo!!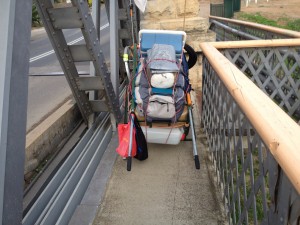 I was very nervous when I walking here.
After passed bridge, one lady called to me.
Her name is Margaret.
She would invited me her office and gave me a cup of tea.
That was comfortable.
I enjoyed that break time, thank you Margaret!!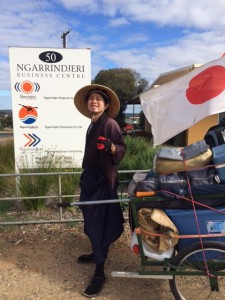 This section doesn't have many hills, so easier to walk than before.
Photo info
I have arrived at Tailem Bend before 4PM.
This town has a caravan park, that named Rivers Edge caravan park.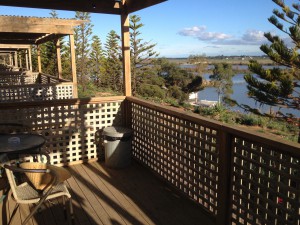 Their manager Jane also very kind, she provide me a free stay!!
She said me,
" I watched your news on TV, so I can help you, I'll donate your journey. "
…Yes, she is lovely person.
Thank you very much Jane!!
I was taking a good rest in this caravan park.
If you coming Tailem Bend, I recommend this beautiful accommodation.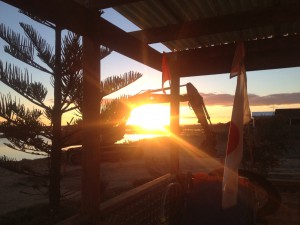 30th
I was heading to Yumari, 41km from here.
This day was also heavy rainy day, so cold so wet.
I spend almost 10 hours, this section was pretty hard.
But I was seeing many lovely guys, I'm pleased meet you.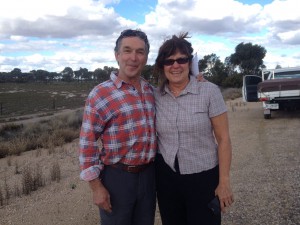 When I have arrived at Yumari, I found this town has nothing.
And my left knee was got pain.
I was afraid this, so I decided to take rest earlier.
Camp out on side road this day.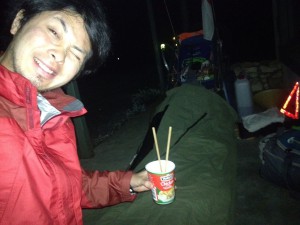 31th
I was heading to Coonalpyn, 23km far from here.
When I was getting up, I felt my left knee got more pain.
I took a painkiller.
That pain made me to walking harder, so many rained, winds, try to beat me.
I was keep walking and finally, I have arrived at Coonalpyn Hotel in afternoon.
Their manager also discount my accommodation fee, so I decided to stay for next Monday.
I must need to take a rest for few days.
I'll try to recover of my left knee problem, don't rush is the most important things for me.
Thank you very much for Georgi and Caw.
That's why, I'm taking a rest now.
I hope you will have a good day!!
【 Special Thanks 】
Norman Dalton
Jarred
Maggie
Lewis
Ruth Adams
Mike & Paul
Jarrod
[ OVAL MOTEL Murray Bridge ] / Donna & Walter
[ Rivers Edge Caravan Park ] / Jane Hodge
Bob Sturdy
Andrew
Fiona Harris, David & Rosemary Penn
Bob & Barbara Ritchie
Mike Symonds
[ Coonalpyn Hotel ]?/ Georgi
Looking forward to seeing you on the way.
Keep following BEYOND WALK!!
Yuuichi
Acceptance of monetary donations for the Tohoku Earthquake
The donation is to contribute to child education and support in Tohoku region.
1 After I finish my challenge, I will return to Tohoku and give support to them as much as possible, and I will do my best to inform you the details about it.
2 Where the money goes
Your kind donation will be used to rebuild the schools and education support for the children
from the disaster region.
3 The Bank information for Donations
*Bank Name : Commonwealth Bank
*SWIFT Code : CTBAAU2S
*Branch Name : Mount Ommaney Queensland Australia
*Beneficiary's Name : SHOTA IWATA
*Beneficiary's Saving Account Number : 10591452
*Beneficiary's Saving BSB Number : 064173
4 Inquiry
info@beyondwalk.com / Yuuichi Iwata
5 After you have completed your transfer of funds kindly put your name / contact details on the HP(Home Page)
A. The name of the individual who had an transfer the founds
B. Your permission to publish your name / detail on my HP
C. Your message (Please make a short message under 30 words)
If you want your name published, please contact info@beyondwalk.com
I will keep in contact and carry out correspondence.