( Adelaide – Summertown – Balhannah – Callington – Murray Bridge- Tailem Bend – Yumari – Coonalpyn – Tintinara – Keith – Bordertown )
Hi everyone!!
1st, 2nd
I was taking a good rest at Coonalpyn Hotel.
Unfortunately, I spent many money from my active costs, so that made my way more harder.
I can't be helped, but my knee was much better than 3 days ago.
It was a good thing for me.
3rd
I was heading to Tintinara, 28km far from here.
This day was not rainy and my knee still painful, but little bit easy to walk than before Coonalpyn.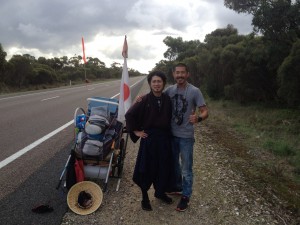 Bad luck, tire was punctured but I can fixed and have arrived at Tintinara Motel before 4PM.
Here's owner Joanne provided me a discount and upgrade rooms.w
She was kind, thank you very much Joanne!!
I was taking a good rest.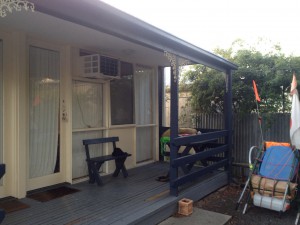 4th
I was heading to Keith, 38km far.
Every day my knee's situation going much better, but this day was so much rainy.
I was wet and very cold, felt not uncomfortable to walking.
When I have arrived at Keith I met one guy, his name is David.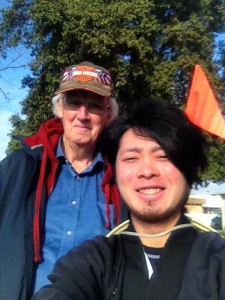 He came from Minipa, their located between Ceduna to Kimba, I passed there before.
Dave understood of my charity and today's situation, so he looked after for me.
He paid my accommodation fee instead of me, treated for me a beautiful dinner, coopers, everything!!
He rescued me so much!!
I felt thanks-full for his kindness.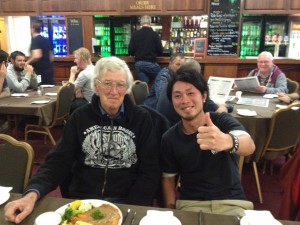 5th
I was heading to Bordertown, there is the last town of SA, 46km far.
Last night my benefactor Dave, he was heading to Melbourne because he wants to catch up with friends, but he postponed meeting and wait for me at Bordertown.
He still looked after for my walk, what's a kindly person!!
Sometimes he was driving back to me, gave me a sushi, sandwiches, drink and told me about road situation.
This was a great help for me, and his help made it my final walking in SA.
He also looking for my accommodation in Bordertown, and finally he introduced me a one family.
His name is Robert, her name is Julie.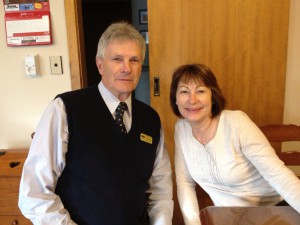 Rob and Julie provide me a free stay at them home, I was having a beautiful dinner with them, and taking a bath in his house, that was great help for my foot!!
I also would thanks for Tim, he is a Chinese restaurant owner, and he treated me a dinner.
Thank you very much Tim!!
They are very kind, so I was enjoying to stay in Rob's house and my knee got much better.
Thank you very much Rob, Julie and Dave!!
Finally, I'll entering to VIC tomorrow.
I feel exciting because everyday I meet lovely person, see the beautiful scenery, everything.
That's why I feel thanks-full for all of them, so I'll pay forward.
This is what I can do it.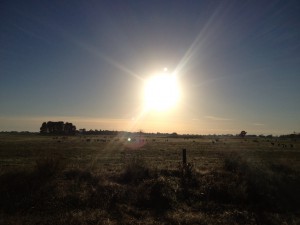 Thank you very much SA, and SA's lovely friends.
I love you and I miss you.
I decided I'll come back here two or three years later.
See you again.
【 Special Thanks 】
[ Tintinara Caravan Park ] / Joanne Head
Shiela & Steve Bath
Wendy & Andrew
David
Maggie Macneill + Family
Rosemary Sinnott
Rachel Rogers
Jenny & Andrew Love
Julie & Robert Harkness
Deb
[ Bordertown Chinese Restaurant ] / Helen Chen & Tim Wei
Looking forward to seeing you on the way.
Keep following BEYOND WALK!!
Yuuichi
Acceptance of monetary donations for the Tohoku Earthquake
The donation is to contribute to child education and support in Tohoku region.
1 After I finish my challenge, I will return to Tohoku and give support to them as much as possible, and I will do my best to inform you the details about it.
2 Where the money goes
Your kind donation will be used to rebuild the schools and education support for the children
from the disaster region.
3 The Bank information for Donations
*Bank Name : Commonwealth Bank
*SWIFT Code : CTBAAU2S
*Branch Name : Mount Ommaney Queensland Australia
*Beneficiary's Name : SHOTA IWATA
*Beneficiary's Saving Account Number : 10591452
*Beneficiary's Saving BSB Number : 064173
4 Inquiry
info@beyondwalk.com / Yuuichi Iwata
5 After you have completed your transfer of funds kindly put your name / contact details on the HP(Home Page)
A. The name of the individual who had an transfer the founds
B. Your permission to publish your name / detail on my HP
C. Your message (Please make a short message under 30 words)
If you want your name published, please contact info@beyondwalk.com
I will keep in contact and carry out correspondence.