( Ceduna〜Wirrulla〜Poochera〜Minnipa〜Wudinna〜Kayancutta〜Kimba〜Port Augusta )
Hi everyone!!
Dec 1th
This day started at 6AM.
Sky is dark, lightning, and strong wind like a storm has come.
After start strong rain falling for me, so I had bad wet.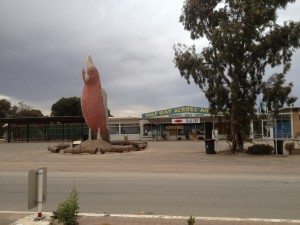 And 40km from Kimba, my wheel bolt and nut is broken, so I can't move anymore.
I'm shocked.
I don't have spare, repair kit, everything.
That's why, I choose try to hitch-hike and ask someone to take me for the PA.
Because PA has a bicycle shop.
AUS country side is difficult to get everything like tyres and wheels.
I'm too much mortified.
This day is Sunday, so I'll go to the bicycle shop tomorrow.
At last I meet Kazuki in PA today.
We are taking accommodation in Motel, and rest.
2th
We going to shop, but this town's bicycle shop don't have new wheels.
So I can't get new one, only we can repair.
We exchange some bolt, nut, spike, everything.
Definitely these wheels working.
We try to take off to the Adelaide Dec 4th.
But at least 110km ( from Kimba to PA ) is remained.
After Adelaide, I choose another route to Melbourne and regain 110km.
〜Port Augusta?[ Acasia Ridge Motor Inn ] / Maria Watherston
I'm afraid about these old wheels to keep going or not for more than 300km from here to Adelaide.
But Everything has mean.
Problem makes me more strong.
I'm too much mortified.
But I'll never surrender and keep going for my charity walk.
I believe we can approaching at Adelaide.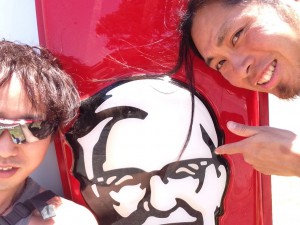 When you see me on the road, please call out to me.
I hope to see you in near the future.
If you want support for Tohoku, please check my donation page.
Thanx for reading.
Have a good day!!