( Port Augusta〜Mambray Creek〜Warnertown〜Redhill〜Snowtown〜Port Wakefield〜Mallala〜Gawler〜Adelaide )
Hi everyone!!
12th
Start at 5AM early morning.
But Glenda&Dick getting up, and made us for break fast.
We don't leave there, but we need to go.
Left at their home.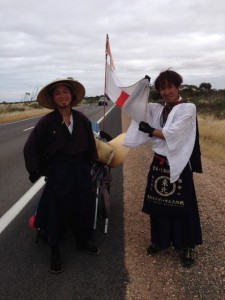 This day had a 50km, point of 40km turn left and into the country road.
Sometimes we afraid about this way is right, but we can approached at Mallala before 4PM.
Buy stuff, dinner, prepare everything in this town.
We book Audrey's accommodation at Mallala, their manager Pam is also kind.
She give us discount price to stay one night.
And this accommodation is pretty good!!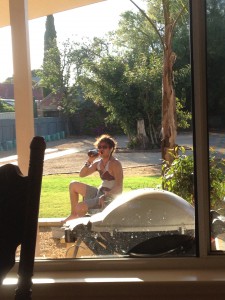 I can get into the bath, too much exciting.
We can get great rest in this accommodation.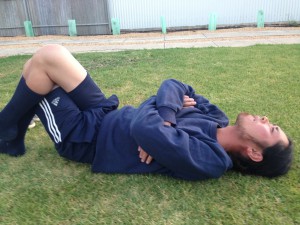 Thanks Pam.
13th
This day is only 33km walk, so we left 7AM, litte bit late.
Mallala to Gawler is Kazuki's final walk.
Port Augusta to that point, we had many problem.
Nature, country side, accommodation, but every problem is great experience for us.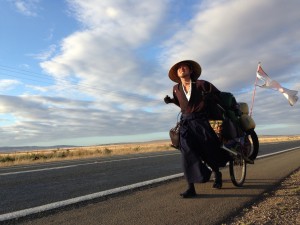 This final day, we conversation everything deeply, especially "LOHAS".
One of our dream is LOHAS life style.
We think "kindness for someone" is a key success factor to raise LOHAS movement.
In this country, many people give us their kindness, so that's made our mind to decide use life for someone's help and for keep this world.
If people can think about someone's help, that idea will going to keep the world, I think.
Definitely that's mind is looks like a LOVE mind.
We hope this kind of idea will spread for the world.
Approaching at Gawler caravan park before 2PM.
And ask their manager to stay my cart here few days, and get train to go to the Adelaide Central.
Because carry the cart is too much dangerous to into the city central.
…He is a interesting guy!!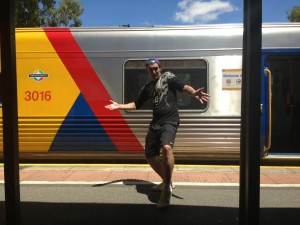 Finally we approached at Adelaide Central Station.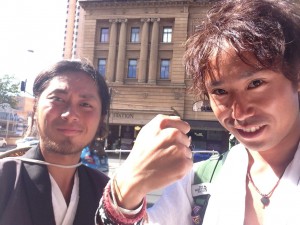 We going to japanese restaurant, and eat japanese tast.
That's was great!!
Ramen, Buta-don, Cya-han, Reimen…
I felt happy very much.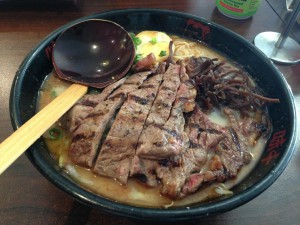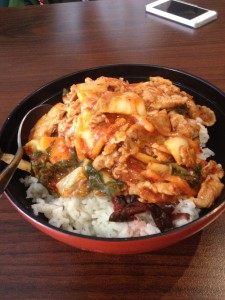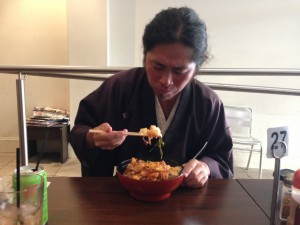 After eat lunch, we heading to the Noarlunga by train.
There is on couple living.
Chris & Alan, we met in Nullarbor and that time they said me gives free stay in their home.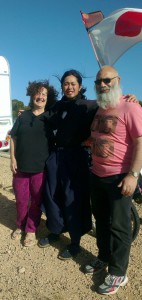 But I don't know about I can meet again and how to go there.
By luck for us, I can meet again today!!
They give us great rest.
Feel relax and relieved.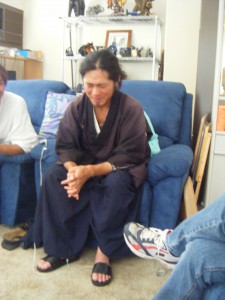 14th
This day Kazuki go back japan.
Before going to Airport, Chris&Alan take us to the sea side.
Christies Beach is beautiful!!
There is no rubbish, no bottles, yeah no dust.
That's why water is transparent.
We are so much impressed.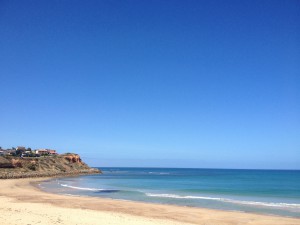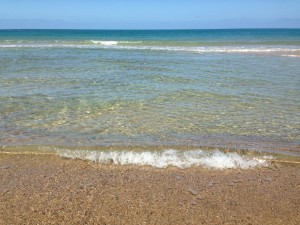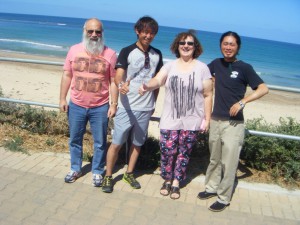 〜Adelaide?[ Audrey's Accommodation ] / Pam Pym, Alastair Love, Kelly, Chris & Allan, Kazuki Nakatsukuma from Kyoto!!
Kazuki going back japan.
I'm alone again.
But I feel not lonly.
Because many people help me and my challenge.
I'll taking a rest in Adelaide for few days, try to recover of my foot problems and prepare everything.
And take off to the next destination Melbourne.
I made it 2,700km from Perth to Adelaide.
At least maybe 1,500km to Sydney.
Thank you so much all of people's kindness.
I'm very thanks full these days, and not forget that memory.
And I'll continued to send this thanks full and help for Tohoku region.
Please follow this chatiry and my blog.
Thank you, and thank you so much for everythig!!
When you see me on the road, please call out to me.
I hope to see you in near the future.
If you want support for Tohoku, please check my donation page.
Thanx for reading.
Have a good day!!