( Sale~Stratford~Bairnsdale~Swan Reach~Raymond Island~Nowa Nowa~Orbost~Bellbird Creek~Cann River~Genoa )
12th
Heading to Cann River, 37km far from here.
I left Bellbird Creek at 6:30AM, because I want to arriving Cann River early time.
I got many card in Bellbrid Creek, Beth from Raymond Island made this and sent for me.
It's lovely, isn't it!?
Thank you very much Beth!!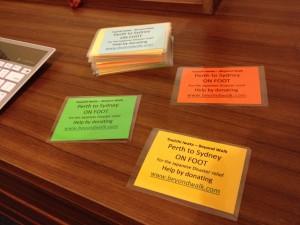 It was hard rainy day this day, and of course, quite hilly.
My foot got damaged from this hills, very hard for me.
So I decided to taking a rest one day at Cann River.
Mountain's weather easy to changed, sometime sunny and sometime rainy.
When I eat my lunch, suddenly rains came.
It was interesting lunch time
I have arrived Cann River at around 3PM, booking motel and took rest.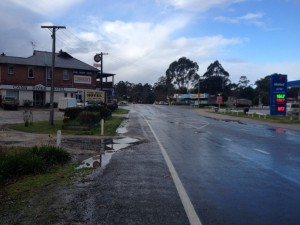 I'm very happy to stay inside at this moment.
Taking a good sleep.
13th
I got up little bit late than usually this morning.
From here to Sydney is around 580km, Keep Going!! Keep Walking!!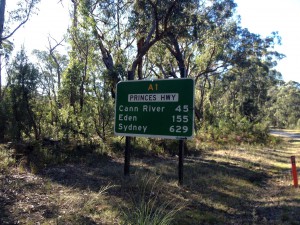 I went to glossary store and bought something to need.
I just prepared for next part, few sandwich's, sport drinks and some foods.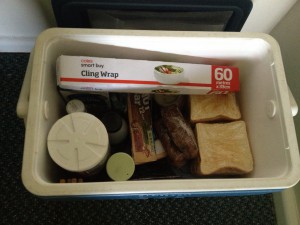 Also made my lunch and dinner, and updated my blog.
Feel calm and relax this day, it was very good for my body and mental.
I was really enjoyed this rest day.
【 My route and schedule is below. 】
If you have a friends in this section, could you tell them my story and help me for one night accommodation!?
It's a really big help for me…!!
14…Genoa
15…Kiah
16,17…South Pambula
18…Bega
19…Cobargo
20…Narooma
21…Moruya
22…Batemans Bay
23,24…Lake Tabourie
25…Conjola
26…Nowra
27…Kiama
28…Wollongong
29…Stanwell Park
30…Blakehurst
This schedule is planned to the end.
I got a friend in South Pambula, that's why I can stay 2night there.
But I don't have enough money to take accommodation for 2night, otherwise I need to take a few days rest between Genoa to Blakehurst.
Because I need to keep walking with look after for my foot and body situation, also I must to arrive in Opera house at 6th of August.
Thank you very much for your kind help.
This is my recently interview from few paper.
If you have a time, check it out!!
【 Road Warrior 】
http://www.latrobevalleyexpress.com.au/story/2399904/road-warrior/?cs=958
 
【 The Gazette 】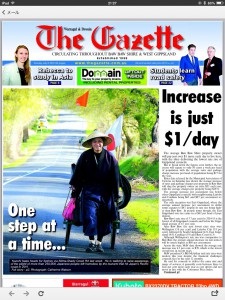 Thank you very much Louie & Catherine!!
14th
Heading to Genoa, there is a final town of Victoria, 47km far from here.
I left Cann River at 6AM.
This day was beautiful weather and less traffic, because school holiday end yesterday.
That's why little bit easy to walking.
15km after Cann River, the road begun to slopes down.
It seemed easier but not good for feet, because all weight attacked for my foot.
So I was careful to walk.
I think hill crime and down hill is both quite hard!!
When I have arrived before 10km from Genoa, I met one guy, his name Dan.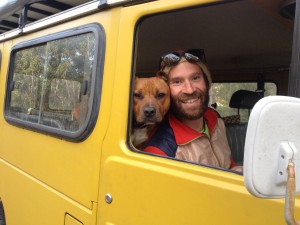 He saw me few days ago, that time he head to Melbourne, today he went back his town and saw me again, so he would stopped in front of me and treat me beautiful coffee and sweet.
It was delicious and had funny chat with him.
Thank you very much Dan!!
I have arrived Genoa at before sunset, prepared of all and update my blog.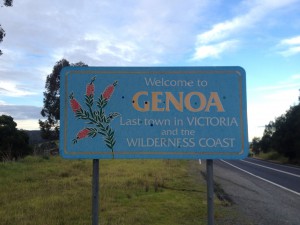 Finally I'll entering into NSW tomorrow and heading to Kiah, this is first town of NSW.
My journey into the final stage.
【 Special Thanks 】
Hiroko Noda
W M Reynolds
Danielle Cox
I'm very excited and thank you for all of your help.
Almost 530km remains!!
Looking forward to seeing you on the way.
Keep following BEYOND WALK!!
Yuuichi
Acceptance of monetary donations for the Tohoku Earthquake
The donation is to contribute to child education and support in Tohoku region.
1 ?After I finish my challenge, I will return to Tohoku and give support to them as much as possible, and I will do my best to inform you the details about it.
2 ?Where the money goes
Your kind donation will be used to rebuild the schools and education support for the children
from the disaster region.
3 ?The Bank information for Donations
*Bank Name : Commonwealth Bank
*SWIFT Code : CTBAAU2S
*Branch Name : Mount Ommaney Queensland Australia
*Beneficiary's Name : SHOTA IWATA
*Beneficiary's Saving Account Number : 10591452
*Beneficiary's Saving BSB Number : 064173
4 ?Inquiry
info@beyondwalk.com / Yuuichi Iwata
5 ?After you have completed your transfer of funds kindly put your name / contact details on the HP(Home Page)
A. The name of the individual who had an transfer the founds
B. Your permission to publish your name / detail on my HP
C. Your message (Please make a short message under 30 words)