( Southern Cross~Yellowdine~Coolgardie )
I'm start again to Coolgardie.
But this morning one problem happened.
New wheels bursted.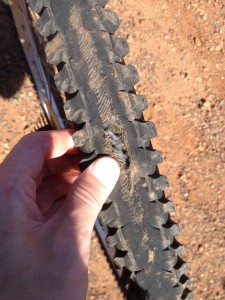 I was walking, suddenly big sounds happened.
When I looked wheels, that one is broken.
I'm so sad because that wheels is almost new one.
Definitely some stones or something made wheels broken.
But I had a spare, so I can continued to walk again.
Before the problem there is no happened.
So I can approached at Coolgardie today.
【Special thanx】
~Coolgardie?Trish
Everyday something happened but this is the adventure.
I don't forget thanksfull everything.
When you see me on the road, please call out to me:-)
I hope to see you in near the future.
If you want support for Tohoku, please check my donation page.
Thanx for reading.
Have a good day!!