( Port Augusta〜Mambray Creek〜Warnertown〜Redhill〜Snowtown )
Hi everyone!!
Dec 4th
We are take off early morning, and go for the Adelaide.
My friends Kazuki, he is a farmer, suit for his Japanese traditional apron!!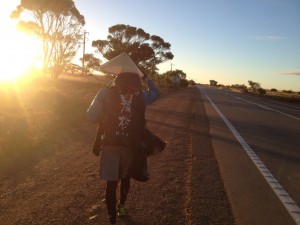 We heading to Mambray Creek this day, 50km far from Port Augusta.
Taking a A1 HWY, this HWY has a many traffic.
Little bit dangerous.
Kazuki surprised at road train.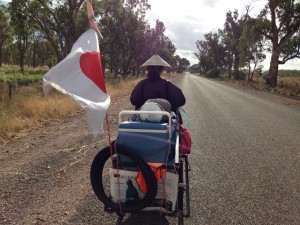 After Nullarbor, only few cars stopped for us.
So little bit difficult to raising found, but therefore I'm realized about every kindness all of people gives me.
Weather is good and not problem, we can easy to walk.
But when we approached at Mambray Creek, we understand about here is no accommodation.
Japanese web page said here has a accommodation, but we can find only weak house and some structure.
We are very disappointed.
We chose camp out, but I have only 1 swag and 1 sleep bag.
So Kazuki use swag and I use sleeping bag on the groud.
That's pretty bad feelings…ha ha.
But we can't take another choice.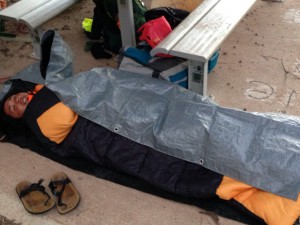 This days dinner is Kazuki's great rice, japanese tin fish and miso soup.
That's was great and little bit feel recovered.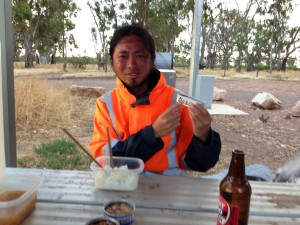 Go to sleep before 8PM.
5th
This day's morning is terrible.
Strong rain and wind has come, so we are too much wetted and cold…
Feel so bad and tired.
We try to clear everything faster and take off before 5AM.
This day we heading to the Warnertown, 50km from here.
By luck, strong rain and wind stopped at 10Am, so going easy for us to walk.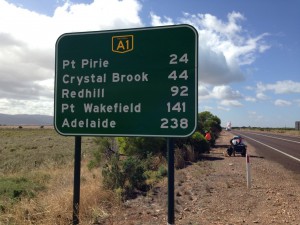 Today I meet again one women, before Port Pirie.
We met Eucla Pass before, she comes frrom Italy, her name is Gabi.
I'm so happy to meet her again!!
Sometimes I meet again few people, that's makes me courage.
They gives me great memory.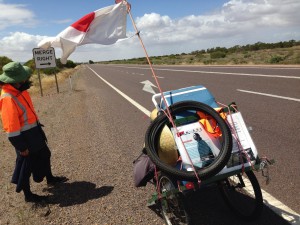 Approached at Warnertown, there has a one hotel, but not accommodation.
We can't get accommodation 2days…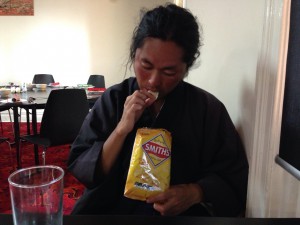 But their manager Lee is very kind person, he gave us free stay about their lounge room.
So we can get great rest, because that room has a bed, roof and wall!!
Room is not into a rain, wind, something.
And also their stuff Arch & Brett is kind.
We are very thanks full for Flinder's Rest Hotel.
6th
At this morning, Brett made us for great breakfast.
That was delicious.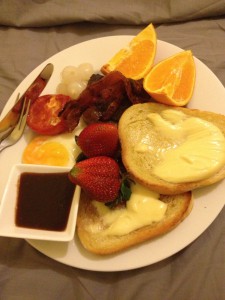 Thanks Brett!!
This day's weather is good, temperature is still fine.
But my foot pain is come again.
That's terrible pain.
So Kazuki instead me to carrying my curt.
Too much help full for me.
After here, we carrying the curt change by change.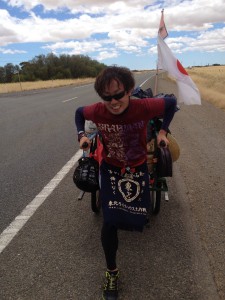 We approaching at Redhill before 4PM.
Taking a shower, washing our wear, and search few stuff.
Redhill General store owner Rose is very kind.
She give us some pies, cookies and drinks.
We're so much thanks full her kindness.
Thanks Rose!!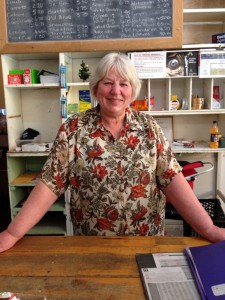 This day, we can get really accommodation at Eureka Hotel.
That Hotel is very good and Warren, he is a manager this hotel, give me a donation.
He is also kind.
We're so happy to coming AUS, everyday we think.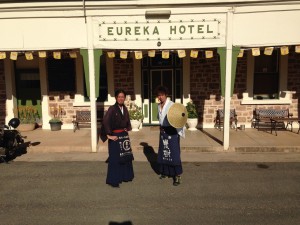 7th
We left this hotel at 5AM, heading to the Snowtown for about 30km.
Kazuki try to eat VEGEMITE with strawberry jam, he is first time to challenge this famous AUS jam, but I advice him "with strawberry jam is not good idea".
After eat this one, he going to feel bad.
Ha Ha Ha Ha Ha!!!!!!!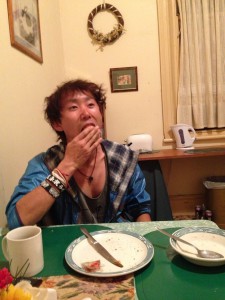 He wants to try feel recover, so he drink one energy drink, that name "Mother", after drinking Mother, he looks little bit recovered.
That's very interesting early morning time!!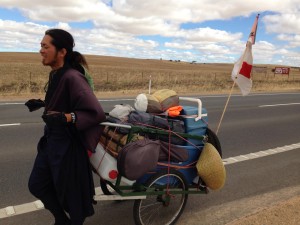 We approached at Snowtown roadhouse at 11AM.
Ask their manager to stay my curt here, and we going one place.
I question for you, where we going?
Please read next article, that one have a answer…
〜Snowtown?Natasha & Lilly, Tim Wildman, [ Flinder's Rest Hotel ] / Lee, Arch & Brett, Paul Warneke, Larry Higgins, [ Redhill Corner Store ] / Rosemary & Allen Conroy, Margaret Saler, [ Eureka Hotel ] / Warren Paul
When you see me on the road, please call out to me.
I hope to see you in near the future.
If you want support for Tohoku, please check my donation page.
Thanx for reading.
Have a good day!!