( Bordertown〜Serviceton〜Kaniva〜Nhill〜Dimboola〜Horsham〜Old Dadswelltown〜Stawell – Ararat )

11th
I was heading to Horsham, 36km far from here.
My knee was still pain and got another pain of right uncle, but felt sunny.
I was walking with thanks full for every my benefactors.
More people would stopped in front of me before, they watched my interview from paper, so little bit easy to conversation.
Thanks everyone!!
Today also I got interview from Mail-Times in Horsham and ABC radio.
[ Mail Times ]
http://www.mailtimes.com.au/story/2341822/photos-yuuichi-iwata-walks-from-perth-to-sydney/?cs=240

[ ABC radio at Horsham ]
http://blogs.abc.net.au/victoria/2014/06/yuuichis-big-walk.html?site=westernvic&program=westernvictoria_breakfast
After that I met two Japanese lady's they lives in Horsham.
Yoko san and Aki san.
They gave me a Japanese food, that was delicious!!
They were cheer up for me, that's why they bring me a food.
Especially Yoko san, her from tsunami hit area.
I promise her about I'll keep going my walk and charity thing.
My mind made up.
I'll do my best for tsunami victims.
Today I was heading to one lady's home, her name is Julie.
She lives in Horsham and her looked after my accommodation.
Thank very much Julie and Jeff!!
I enjoyed beautiful dinner and rest.
12th
I was heading to Old Dadswelltown, 37km far.
Two days ago when I was in before Dimboola, I met one guy, his name Max.
He owned his cabin in Old Dadswelltown, and that time he said me he look after my accommodation in there, so I was heading to there.
He came to me before there, and kindness introduce ow to get into their town.
I have arrived their and surprised, because he made himself "this town" for ten years!!
It was lovely and interesting!!
[ Old Dadswelltown ]
http://www.olddadswelltown.com.au
I was so much enjoyed to stay here, dinner and rest.
My room, named "store" !!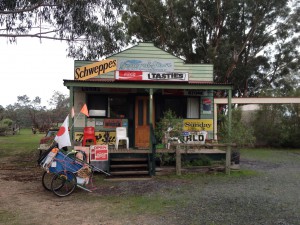 Max was also catches up him, maybe you know him.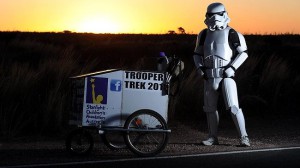 http://www.news.com.au/travel/travel-updates/km-trek-a-fate-worse-than-darth/story-e6frfq80-1226207173558
Max was interested in adventure, so sometimes he invited "interested person".
Thank you very very much Max and Jenny!!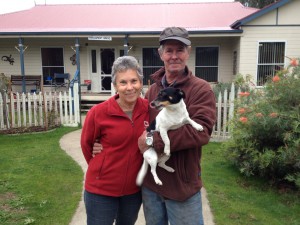 13th
I was heading to Stawell, 31km far.
This day I saw one interested Koala in Dadswell Bridge.
It was……funny.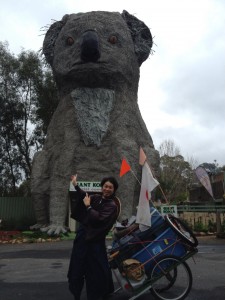 This day was just only walking and walking, little bit hard.
I have arrived at cheap accommodation in roadhouse and got sleep early.
14th
I was heading to Ararat, 26km far.
This day was heavy rainy day, so I was wet and new tyre was broken just only one day!!
I didn't understood why this one broken.
Very hard walking day this day.
But I got a two luck.
First I met one lady, she from Japan and friend of Yoko, Aki.
She also took me a Japanese lunch and tea, it was beautiful and made me warm.
Thanks Yuki san!!
And today's accommodation, Golden Gate Lodge owner was very kind.
They provide me free stay, what's big room and gave me many hot foods!!
I was recovered from them hospitality.
Thank you very much, Marianne, Katelin & Laurie.
【 Special Thanks 】
Rodney & Ough
Ron Smith
John & Peter Oloughlin
Paul Tabone
Kris Young
Julie & Jeff Pettett family
Brendan Ellis
Peter
Roger Johnston
Mike Ditkun
[ Old Dadswelltown ] / Jenny & Max Green
Marie Clyde
Woddy Mary
Jenny
Kieran Ryan
[ Golden Gate Lodge ] / Marianne, Katelin & Laurie
Ararat to Melbourne is 200km remains.
My both foot still painful but I'm keep going.
Pray for Japan and Tohoku!!
Thank you for everyone!!
Looking forward to seeing you on the way.
Keep following BEYOND WALK!!
Yuuichi
Acceptance of monetary donations for the Tohoku Earthquake
The donation is to contribute to child education and support in Tohoku region.
1 After I finish my challenge, I will return to Tohoku and give support to them as much as possible, and I will do my best to inform you the details about it.
2 Where the money goes
Your kind donation will be used to rebuild the schools and education support for the children
from the disaster region.
3 The Bank information for Donations
*Bank Name : Commonwealth Bank
*SWIFT Code : CTBAAU2S
*Branch Name : Mount Ommaney Queensland Australia
*Beneficiary's Name : SHOTA IWATA
*Beneficiary's Saving Account Number : 10591452
*Beneficiary's Saving BSB Number : 064173
4 Inquiry
info@beyondwalk.com / Yuuichi Iwata
5 After you have completed your transfer of funds kindly put your name / contact details on the HP(Home Page)
A. The name of the individual who had an transfer the founds
B. Your permission to publish your name / detail on my HP
C. Your message (Please make a short message under 30 words)