( Melbourne~Coburgo~Dandenong~Nar Nar Goon~Warragul~Trafarger~Traralgon~Sale )
28th
Heading to Coburgo, 9km far from Glenroy.
I was little bit sad to leave here, because Nobby-san gave me so many kindness.
Before leave Melbourne, he took me to a small airport and I got on the airplane which he drove!!
It was special!!!!!!!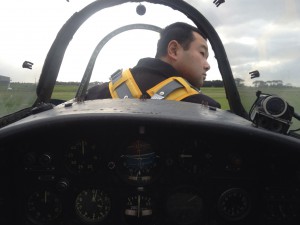 I was moved his beautiful work and thanks full for him.
I'll never forget these days experience.
Thank you very very much, and looking forward to seeing you again Nobby-san.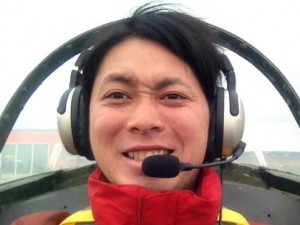 After radio interview in Melbourne, on guy sent email for me, his name Ian and he lives in Coburgo near by Preston.
First time, I was planning to stay at Preston and write about this in my blog.
Ian had read this, so he offered me to stay his home.
What a kind guy!!
After arrived his house, he took me a restaurant and treat me beautiful Turkish dinner.
It was delicious!!
His wife Ai also very kind.
Thank you very much for there kindness, and I'm pleased to meet them.
29th
Heading to Dandenong, 39km far from Coburgo.
I forgot my stuff in Ian's house, so he bring that for me two times.
I'm so sorry and thanks.
This section was hilly and so many rainy.
It was very hard.
But this day's lunch was awesome.
It was delicious.
I have arrived at Dandenong at around 18PM, that time was darkness and cold.
I was taking motel and sleep inside.
Wall, roof and air conditioner saved me.
30th
Heading to Nar Nar Goon, 39km far from Dandenong.
First I was plannning to go for Tynong, but I was very tired, hilly and rainy so I decided to go for Nar Nar Goon, here was 5km less walk than Tynong.
And this decision made me so many fortunately things.
When I have arrived at Nar Nar Goon, I found this town doesn't have accommodation.
But people in Nar Nar Goon hotel, they looking for accommodation instead of me.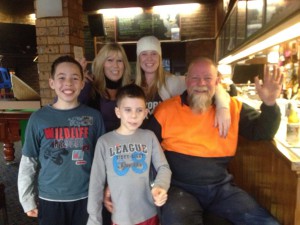 Kim and Ethan found place to free stay for me, so I stayed one guy's house.
His name is Mark.
He was very kind, treat me beautiful meal, hot shower and BEER!!
I was really enjoyed to stay with him.
Thank you very much Mark!!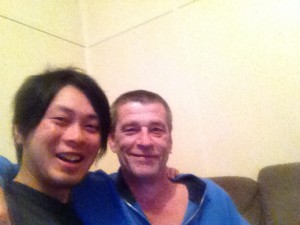 1st
Heading to Warragul, 36km far from here.
I met on Japanese guy in Hotel yesterday, his name Rui.
This was also fortunately meeting.
He living in Warragul and he allowed me to free stay at his home today.
We're talked just only 5min but I understood he seems very kind.
This section was quite hard, hilly and strong rain.
I was wet so much and tired.
When I have arrived his home, he and his family welcomed me and provided me to beautiful Japanese home style dinner!!
His wife Michel lived in Japan for 10 years, so she is nice chef.
I was really enjoyed at that time.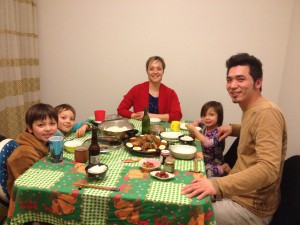 Rui-san owned wholesale retail catering service at Warragul.
He doing everything his catering service, and that sushi and Bento ( Japanese Lunch Box ) was also beautiful.
He had experience about Japanese restaurant chef for long time in Japan, so that was awesome.
Authentic Japanese Cooking
Phone 😕03 5623 5938
Email : kokolobento@dcsi.net.au?
?
If you will have a chance to go for Warragul, I'm strongly recommend to buy his sushi.
I believe you'll satisfied when you eat his sushi and Japanese meal.
2nd
Heading to Trafargar, 27km from here.
Rui-san told my story for his friend lives in Trafargar, her name is Miyuki-san, so I was staying her house today.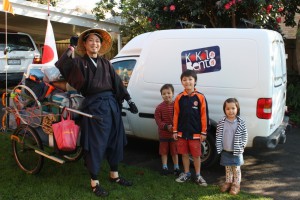 This section was not so hard, so little bit easier than another section.
Before approached at Miyuki-san's house, I met another Japanese lady, her neme is Kumi.
She gave me a kindly donation for tsunami victims.
Thank you very much, Kumi-san!!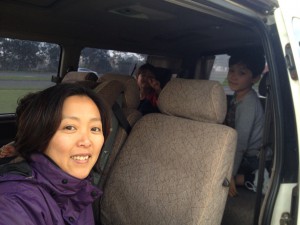 I have arrived at her house before sunset, and her family's welcomed me.
MIyuki-san and her husband Abe understood my hard situation, so they were very very kind.
I was really enjoyed to taking a bath, beautiful meal and sleep.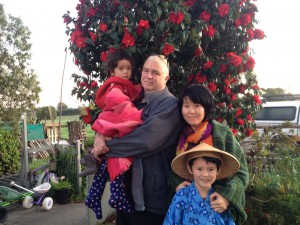 Thank you very much for their kindness.
I was recovered.
Looking forward to seeing you again on the road!!
3rd
Heading to Japanese lady's house in Traralgon, 40km far from here.
She is friend of Miyuki-san, so Miyuki-san introduced her about my story and I can stay her house tonight.
Yumi-san, she is same age for me, also very kind and his family too.
Her husband Chris gave me a footy cap, haha.
Thanks Chris!!
I can stayed inside and had a good dinner and sleep.
Thank you very much Yumi-san's family!!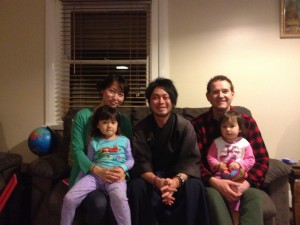 And this day Rui-san came to me, and gave me a flag.
This is introduce of my walk, people easy to understand my cause.
His friend Gordon, he is owned [ legible signs stickers-banners ] shop at Warragul, and he made this flag for me.
Thanks Gordon and Rui-san!!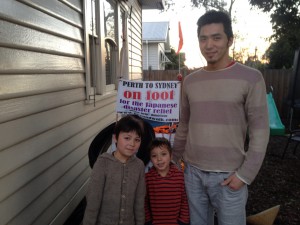 4th, 5th
Heading to Sale, 55km far from here.
It was really hard day, but I made it!!
I was taking just 12 hours and arrived one Japanese guy's house.
He is a friend of Yumi, she introduced him about me, so I can stay his house.
Masaya-san and his wife Soyon-san also kind, they made me a beautiful meal and provided me a two night stay.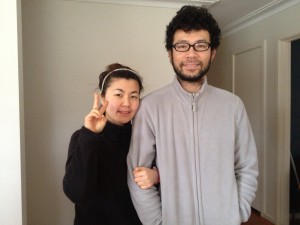 That's why, I was almost recovered.
I was enjoyed to stay with them.
【 Special Thanks 】
Ai & Ian
Charles Choma
Alice Beaton
Michelle & Joe
Maitri Michael
Charlie Lim
Danielle & Bella Bruce
Kim, Mick, Tristan, Ethan & Lewis
Mark
Helen Davey
Michel, Hyu, Zack, Nina & Rui Nakamura
[ KoKolo Bento ]
[ Legible Signs ] / Gordon
Bern & Graeme Wills
Kumi Slade
Miyuki, Soah, Mala & Abe Potts
Yumi, Mia, Emma & Chris McQuillen
Damien Tripodi
Jordan Tripodi
Soyon & Masaya Nakashima
So many people helped me and supported my WALK.
I was moved their kindness every day.
I'll try to hard work for support tsunami victims and keep going charity cause.
I think this is my life.
I was pleased to meet them, thank you so much!!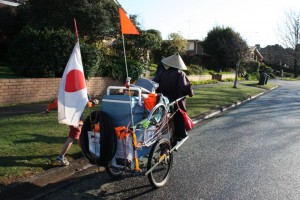 Thank you very much for all of your kindness.
Looking forward to seeing you on the way.
Keep following BEYOND WALK!!
Yuuichi
Acceptance of monetary donations for the Tohoku Earthquake
The donation is to contribute to child education and support in Tohoku region.
1 After I finish my challenge, I will return to Tohoku and give support to them as much as possible, and I will do my best to inform you the details about it.
2 Where the money goes
Your kind donation will be used to rebuild the schools and education support for the children
from the disaster region.
3 The Bank information for Donations
*Bank Name : Commonwealth Bank
*SWIFT Code : CTBAAU2S
*Branch Name : Mount Ommaney Queensland Australia
*Beneficiary's Name : SHOTA IWATA
*Beneficiary's Saving Account Number : 10591452
*Beneficiary's Saving BSB Number : 064173
4 Inquiry
info@beyondwalk.com / Yuuichi Iwata
5 After you have completed your transfer of funds kindly put your name / contact details on the HP(Home Page)
A. The name of the individual who had an transfer the founds
B. Your permission to publish your name / detail on my HP
C. Your message (Please make a short message under 30 words)