( Ararat – Beaufoot – Ballarat – Ballan – Melton – Melbourne)
19th
I was heading to Glenroy, Melbourne, 34km far from here.
I was taking back road, and that way has many hills.
So many traffic, strong wind, not kindly people made me sad, everything tired for me.
I saw "Seven Eleven" today, that time I felt I'm into the great city.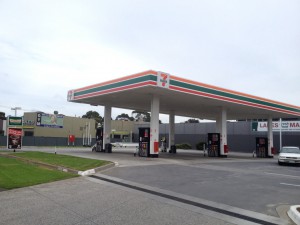 This day was very tough day.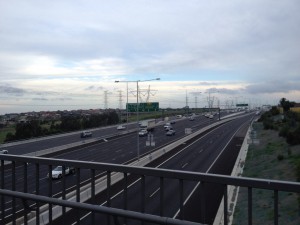 But I made it!!
I have arrived at Melbourne!!!!!!!
This charity walk is quite hard chalenge, but I want to support for tsunami victims and children.
If you have a time, watch this short video.
I hope you can understand why am I trying to this walk.
This is such a impressed movie.
【 We will Always Remember You 】
When I have arrived at Glenroy, one Japanese guy welcomed me.
His name Nobby, he is a pilot.
He and his friends welcomed me and they made Japanese hot pot, some beautiful meal for me!!
Also Japanese beer too!!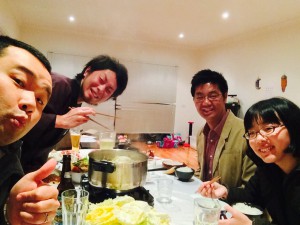 I was enjoying that dinner and conversation with them.
I felt relived.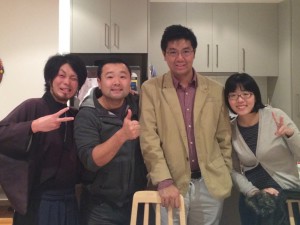 Thank you very much everyone!!
Finally I have arrived in Melbourne today!!
From Perth to here, I was taking almost 3,250km.
This way was so long and so hard, but I made it!!
I was taking a bath, and good sleep.
20th – 25th
I have enjoyed this holiday.
I met again my friends, from Adelaide and my home town Shimane prefecture!!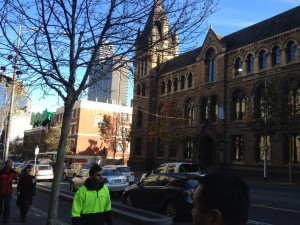 We watched Japanese World Cup football game in city, eat Ramen noodles and Japanese meal.
That was delicious.
Another day, we went to Great Ocean Road, of course by driving haha.
There scenery was amazing!!
I was impressed.
I got interview from few Japanese media, ABC radio, I was nervous but it was excited!!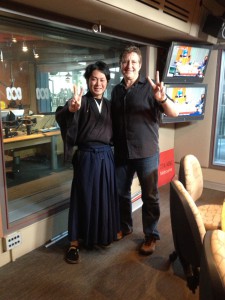 Thanks Richard and Tess!!
That's why I have really enjoyed this holiday.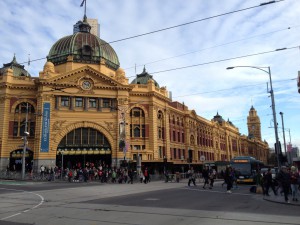 My both foot situation was little bit recovered but still has pain.
This is not good, but I hope much more better.
I'll leave Melbourne at this Saturday.
My final reg will begin!!
I'll taking this way for Sydney via A1 HWY.
[ Route ]
Preston – Dandenong – Tynong – Warragul – Moe – Traralgon – Sale – Stratford – Bairnsdale – Nowa Nowa – Orbost – Bellbird Creek – Cann River -Genoa – Kiah – Eden – Wolumla – Bega – Cobargo – Narooma – Moruya – Batehaven – Lake Tabourie – Conjola – Nowra-Kiama – Wollongong – Stanwell Park – Sydney
If you have some friends on this way, could you tell them about my charity walk, and if you OK, ask them about one night stay for me!?
That kind accommodation help is very big for me.
Thank you very much for consideration.
Anyway, I'm try to recover my foot and save power of my body!!
Thank you, and thank you very much for all of your kindness.
I'll keep going my walk.
Looking forward to seeing you on the way.
Keep following BEYOND WALK!!
Yuuichi
Acceptance of monetary donations for the Tohoku Earthquake
The donation is to contribute to child education and support in Tohoku region.
1 After I finish my challenge, I will return to Tohoku and give support to them as much as possible, and I will do my best to inform you the details about it.
2 Where the money goes
Your kind donation will be used to rebuild the schools and education support for the children
from the disaster region.
3 The Bank information for Donations
*Bank Name : Commonwealth Bank
*SWIFT Code : CTBAAU2S
*Branch Name : Mount Ommaney Queensland Australia
*Beneficiary's Name : SHOTA IWATA
*Beneficiary's Saving Account Number : 10591452
*Beneficiary's Saving BSB Number : 064173
4 Inquiry
info@beyondwalk.com / Yuuichi Iwata
5 After you have completed your transfer of funds kindly put your name / contact details on the HP(Home Page)
A. The name of the individual who had an transfer the founds
B. Your permission to publish your name / detail on my HP
C. Your message (Please make a short message under 30 words)