Hi everyone!!
6th
I'm taking a good rest at Cocklebiddy and go for the next stop Caiguna.
Ifeel so much thanks full about this roadhouse.
This day has a little bit rain, this is not bad.
But I'm tired yesterday walking so can't go too much.
Eventually I'm taking 58km walk.
Sleeping before 19:30.
7th
Strong rain sounds makes me get up.
Timed at 5:30.
I'm prepare everything to start in the rain.
Suddenly, someone said me 「Hi Good morning!! 」from on the way.
I'm very surprised, and one guys coming.
His name is Mark Allison, comes from England, people called him " Geordie ".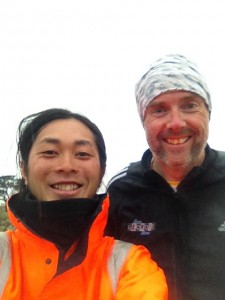 He is run across Australia and raise for two charities that children's Foundation.
Before this challenge, he finished across the America.
I'm very impressed his challenge and happy to meet him.
[ 2600 MILES IN 70 DAYS OCT-DEC 2013 ]
After I start, heavy rain has come but today only 33km.
So I feel little bit easy today.
Beofre Madura roadhouse, I found look out of 「 Madura Pass 」.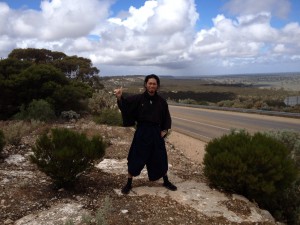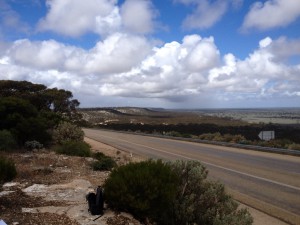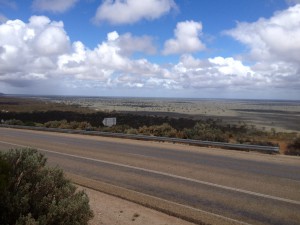 There sight is very nice.
I'm very happy to see them.
This Madura owner is also kind.
He provide me many kindness, so I feel recovered.
Taking a good rest.
〜Madura?Awnis, Watson, Davide Righi, Andrea Galgnani, Rocco Napoli, Paul, [ Madura Roadhouse ] Brian
Tommorw I'm going to the next roadhouse Mundrabilla.
From here to Mundrabilla has 115km, so I need 2 days.
I had a many experience of nature and people kind this week.
I feel so much thanks full everytime.
Thank you for everyone.
Please keep in touch.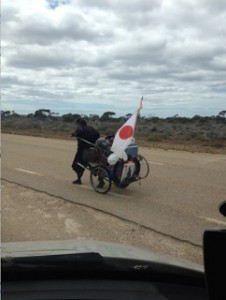 When you see me on the road, please call out to me
I hope to see you in near the future.
If you want support for Tohoku, please check my donation page.
Thanx for reading.
Have a good day!!