( Genoa~Kiah~South Pambula )
15th
Heading to Kiah, there is a first town of NSW, 48km far from here.
I left Genoa at 7AM, and after 15km from Genoa, I have entered in NSW!!
NSW is my final state in this charity walk!!
This is my recently interview at Raymond Island, Beth arranged this.
Thanks Bath!!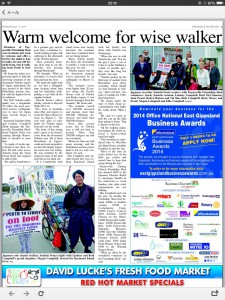 This day was also hilly, rainy and cold.
I think orbost to South Pambula was second hard part whole of my walk, of course most hardest part was Nullarbor Plain.
That's why all of my body and feet got hard damaged, it made me difficult to keep walking.
Moreover I got bad injured of my left heel.
It seemed hot iron to push my feet and have a pulled muscle.
I felt crying because it was too sore.
This is a " walk across country ".
This is a proof of walk.
My charity walk has two means;
one for raising money for victims and offend children's education.
one for encouraging to people.
Of course, very very hard walk but I'll keep walking for Sydney.
I hope Tohoku regional people encouraged to see my walk.
I'll never surrender.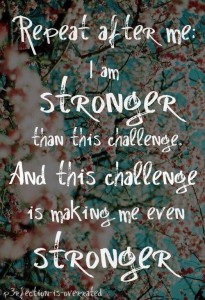 Suzanne from Ballalat sent me this courage full message, thanks Suzanne!!
Fortunately I met one guy 10km before from Kiah, his name Ray, brother of Miyuki's husband Abe.
He lives in South Pambula and there is my point of tomorrow!!
Ray invited me to stay his house for few days.
He is very kind and he arranged my accommodation at his house of this day.
I have arrived Kiah at around 5PM, and there general shop owner David looked after my curt, so Ray took me for his house by driving.
I got big sore and very tired, so his hospitality saved and rescued me.
After arrived his house, we ate some food, drinks and sleep.
I was very very happy to sleep inside this day…..
16th
Ray took me for Kiah on 7:30AM, and I was heading to South Pambula, 31km far from here.
It rained on early morning but stopped before afternoon, weather was nice.
My heel was still very sore but pain-killer worked, so I could to keep walking this day.
When I was 10km before Eden, I got interview from lacal media, this URL is my article.
If you interested in this, read it out!!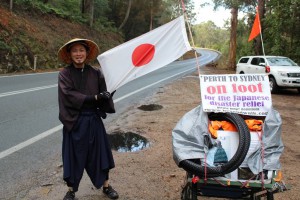 http://www.begadistrictnews.com.au/story/2421268/epic-walk-for-tsunami-victims/?cs=507
Also many people would helped me, one lady named Kate, she bought many food stuff for me and go back to see me after she passed me.
Thank you very much everyone!!
After Eden, HWY has huge hard steep hills.
It was really hard for me but I made it!!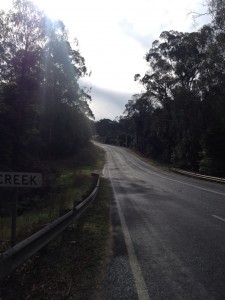 I have arrived at Ray's house on 4PM, took a shower, have some eat Thai beautiful dinner, drink beer and sleep.
I felt I'm in heaven, 100%.
17th, 18th
I was took a rest these days.
I was really enjoyed these rest days, I felt calm and peace.
My body and feet ( still sore ) was much recovered than before.
Ray and Mel is also very kind and gentle.
I love them beautiful attitude and smile.
They are nice, isn't it!!?
Thank you very very much for your all of kindness.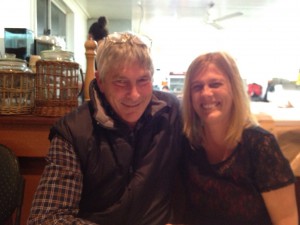 l
I got interview from Bega ABC radio.
It was good for my cause, every time I'm looking for publicity.
Ray arranged this.
Yes, Ray is my benefactor.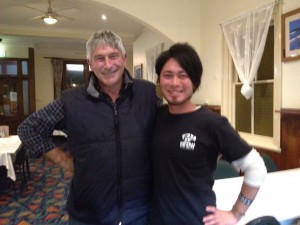 Thank you so much, Ray!!
I was prepared about everything to start again my walk.
This is my schedule but this is planned to last.
【16,17,18…South Pambula】
Ray's house
??35km
【19(Sat)…Bega】
Miyuki's friend house
??42km
【20(San)…Cobargo】
Beth's friend house
???38.1km / ?34.5km
【21(Mon)…Narooma】
Motel?or??
???39.5km / ?46km
【22,23(Tue,Wed)…Moruya】
!?
???25.7km / ?27.7km / ?27.6km
【24(Thu)…Batemans Bay】
Motel?or?or??
?? 42km
【25(Fri)…Lake Tabourie】
Motel?
??30km
【26,27(Sat,Sun)…Conjola】
Motel?
??27km
【28(Mon)…Tomerong】
Camp out?
?? 22km
【29(Tue)…Nowra】
Motel?
??40km
【30(Wed)…Kiama】
Motel?
??33km
【31,8/1(Tur,Fri)…Wollongong】
Back packers?
??26km
【8/2(Sat)…Stanwell Park】
Motel?
??40km
【8/3,4(Sun,Mon)…Blakehurst】
Someone's house?
??
【8/5(Tue)…Somewhere(10km before Opera House is the best)】
??10km
【8/6(Wed)…Opera House】
Do you have a friends in this section, please help my place to stay.
Thank you for your help every time!!
【 Special Thanks 】
Margaret, Chris, Georgia
Joe, Durmus, Paul, Patty
Kung Silke & Patrick switzland
Carol Uualczak
Richard Everett
Mick Brosnan
Ray Potts
From here to Sydney is 460km remains.
My final leg is almost finished but still so many km.
I hope my feet much better than now, and body recovery.
I'll keep walking, and please help raising funds, place to stay and cheer up for my walk.
Looking forward to seeing you on the way.
Keep following BEYOND WALK!!
Yuuichi
Acceptance of monetary donations for the Tohoku Earthquake
The donation is to contribute to child education and support in Tohoku region.
1 After I finish my challenge, I will return to Tohoku and give support to them as much as possible, and I will do my best to inform you the details about it.
2 Where the money goes
Your kind donation will be used to rebuild the schools and education support for the children
from the disaster region.
3 The Bank information for Donations
*Bank Name : Commonwealth Bank
*SWIFT Code : CTBAAU2S
*Branch Name : Mount Ommaney Queensland Australia
*Beneficiary's Name : SHOTA IWATA
*Beneficiary's Saving Account Number : 10591452
*Beneficiary's Saving BSB Number : 064173
4 Inquiry
info@beyondwalk.com / Yuuichi Iwata
5 After you have completed your transfer of funds kindly put your name / contact details on the HP(Home Page)
A. The name of the individual who had an transfer the founds
B. Your permission to publish your name / detail on my HP
C. Your message (Please make a short message under 30 words)